Occasional Contributor III
Mark as New

Bookmark

Subscribe

Mute
ArcGIS Hub Premium allows us to set up a Custom Sign Up Welcome Message and Custom Sign Up Terms and Conditions in the Advanced Settings. In addition, users signing up are expected to agree to the ESRI Master Agreement and Privacy Policy. However, when inviting users to create an account (rather than self-sign up), they bypass all of these terms and conditions (both custom and ESRI - see screenshot below of self signup requirements). Is there a way to enable the terms and conditions for invited users to agree to during their account setup process? This seems to be an oversight at the moment.

If this is not possible, what is the best process for ensuring that users read and agree to both ESRI's and our organisation's terms and conditions? Possibilities I have considered include:
Provide links to the terms and conditions before inviting users to setup an account.
Provide links to the terms and conditions in the invite email (but the custom email text does not have formatting options for hyperlinks)
Provide links to the terms and conditions after signup (too late!)
If using one of the above workarounds, what link(s) can we use to direct users to the ESRI terms and conditions for ArcGIS Online?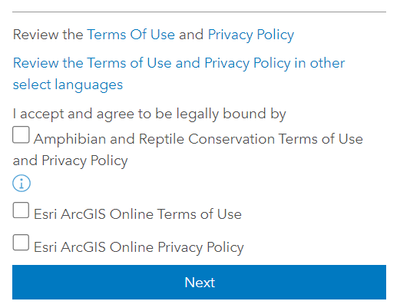 2 Replies

by
BrendaWolfe

Esri Contributor
Mark as New

Bookmark

Subscribe

Mute
Hi @DataOfficer, for your awareness, The Hub team actually has plans to remove the Esri Privacy Policy checkbox, but still have the Esri Privacy policy accessible in an effort to simplify sign up and reduce friction in the process.
That still leaves the Esri Terms and Conditions. You bring up a good point about community user you are inviting/adding behind the scenes. Some Hub customers use Survey123 to collect and vet community users. You might consider delivering terms and conditions as part of the survey: https://community.esri.com/t5/arcgis-survey123-questions/adding-accept-terms-and-conditions-to-a-sur...
Thank you for your feedback and questions.

Occasional Contributor III
Mark as New

Bookmark

Subscribe

Mute
Hi @BrendaWolfe,

Thank you for the quick reply on this and the update on plans to remove the privacy policy checkbox. Our concern over having a secondary process to agree to terms and conditions outside of the account sign up is that it adds extra work for the user. Are there any plans to integrate the same terms and conditions check boxes for invited users in the account set up process? It would certainly be the preferred option for us.

Many thanks,
Rob