New Contributor
Mark as New

Bookmark

Subscribe

Mute
Why is the 'title' attribute for a dataset changed in the /data.json file? The name of the feature service is now being used for 'title', but previously, the layer name was being used.
With this new behavior, the title in data.json is not the same as the dataset name displayed on the Open Data site.
For instance, the first dataset on http://data.mesaaz.opendata.arcgis.com/datasets is "Capital Improvement Programs":

However, in http://data.mesaaz.opendata.arcgis.com/data.json​, the dataset's title is "CIP" (the feature service name):

2 Replies

Occasional Contributor III
Mark as New

Bookmark

Subscribe

Mute
So this is a little tricky, but data.json is doing the right thing and the search results is doing the wrong thing.
When ArcGIS online items point to a single layer the Open Data dataset will take it's name from that layer. So in this case, the dataset name is supposed to be CIP. In fact, if you go into your Admin Data Report and hit the refresh button, you will see the dataset name change to CIP since that is what the ArcGIS Online Item is titled.
I recommend that you go into ArcGIS Online and change the item title to Capital Improvement Programs. That should fix your issue. If it doesn't please let me know.

Also please note, that your data.json will only update every 18 hours. So the changes may not take place immediately.
Let me know if you have any questions about all this.

Daniel Fenton
Product Engineer | Open Data

New Contributor
Mark as New

Bookmark

Subscribe

Mute
The problem is that if a feature service is published with multiple layers, each of those layers have the same title in data.json.
For example, this feature service "Pavement_Cut_Restrictions​" has two layers: "Past_Restrictions" and "Future_Restrictions". The two layers are shown correctly in search results. However, in data.json, both are titled "Pavement Cut Restrictions" and there is no way to tell them apart or get their layer names.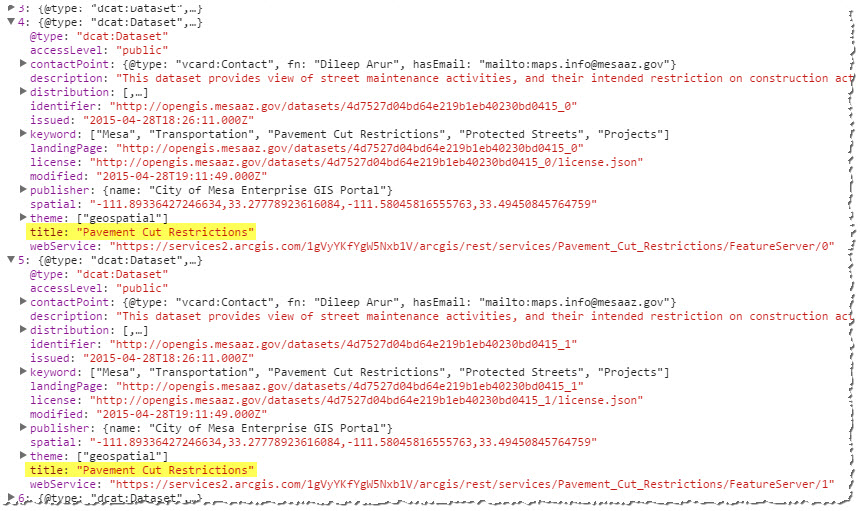 Sorry for the late response. Geonet did not notify me of your reply for some reason.