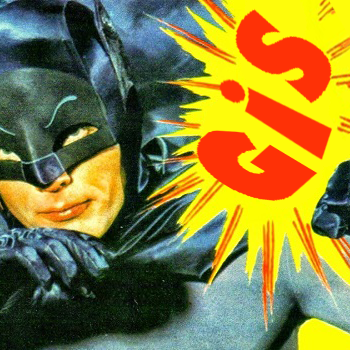 Occasional Contributor III
Mark as New

Bookmark

Subscribe

Mute

Email to a Friend
Hi All,
Don't have much experience with GeoEvent... I am trying to update a single field in one hosted feature with a field from another hosted feature using GeoEvent. The Input type is 'Poll an ArcGIS Server for Features' and the Output type is 'Update a Feature'. Both the input and output count go up when a record meets the filter on the input (Complete = 'Yes'), though the value is not written to my output feature. Both hosted features have a 'Job ID' field, and I have set the TRACK_ID to these features for the Input and Output Definitions – not sure if this is correct. I have used the Field Mapper to map the 'Complete' field from the Source to the 'Complete' field of the Target. This is the only value I am after.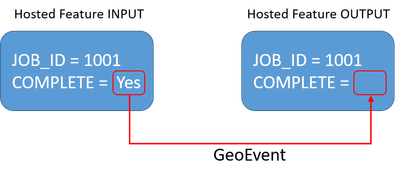 I'm sure it is something simple I am missing or have not setting up correctly. Do I need to add a filter for Job_ID = Job_ID so the right Output feature gets updated? I have assumed TRACK_ID manages this. I'm hoping someone can point me in the right direction or share an example? Thanks.
Jamie.
2 Solutions

by
JakeSkinner

Esri Esteemed Contributor
Mark as New

Bookmark

Subscribe

Mute

Email to a Friend
In your Field Mapper, include the sequence_id fields. These will be needed so it knows which features to update.

by
JakeSkinner

Esri Esteemed Contributor
Mark as New

Bookmark

Subscribe

Mute

Email to a Friend
Try with the attached datasets. Publish each as editable feature services (i.e. Airports_Source, Airports_Target). In the below example, I published the services as hosted ArcGIS Server services. Here is how I set up GeoEvent:
1. Create a Poll an ArcGIS Server For Features input for the Airports_Source feature service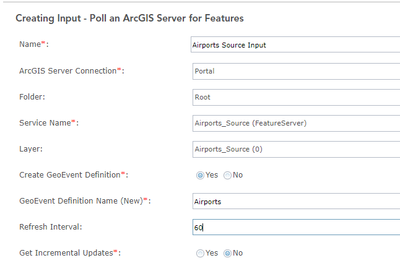 2. Create a Update a Feature output for the Airports_Target using name field as the Unique Feature Identifier Field: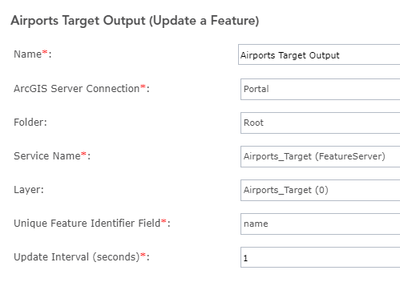 3. Create a new GeoEvent Definition with only the name and fcc fields:

4. Create a GeoEvent Service. Add a Field Mapper Processer between the input and output: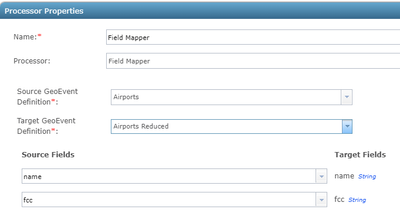 I did not have to specify any fields as the TRACK_ID in this example. Let me know if you are able to get this to work on your end.
11 Replies