New Contributor III
Mark as New

Bookmark

Subscribe

Mute
A new Excel Sheet can't be saved to a Network Location from Excel when the ArcGIS (Maps) for Office AddIn is activated:
When a new file is created in Excel and user clicks on "Save", a dialog opens which always points to the local machine.
If user clicks "File" --> "Save as", a dialog is opened which has options for the corporate network locations (OneDrive and Sharepoint Sites) as well as local.
Saving in one of the network locations isn't working: the dialog opens and displays the network location, user navigates to correct folder and specifies a file name & clicks on "Save", then a second "Save As" dialog opens with the option to save to the local drive.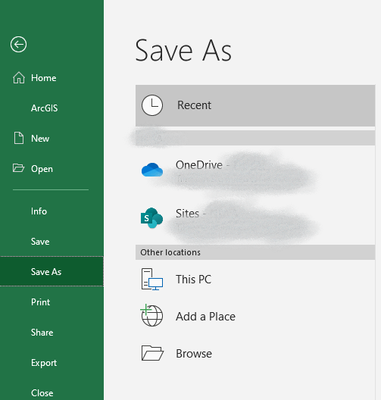 Select network location (e.g. a corporate Sharepoint Site) and navigate to folder:

Clicking on "Save" then brings up this dialog (which makes no sense at all as I've already specified a different location and file name for saving):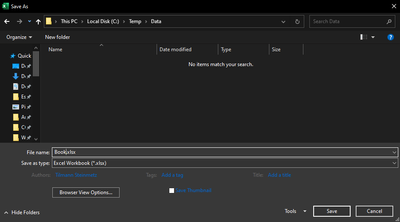 For this workflow it makes no difference whether or not an ArcGIS Map has actually been created or not.
We've tested this both in ArcGIS Maps for Office (2020.1) and ArcGIS for Office (2021.1), in a current Office 365 Excel, on Windows 10 (1909) with consistent (mis-)behaviour.
The same workflow in PowerPoint, using the same install, works correctly.
Is this a bug in the Excel Addin?
Thanks!
3 Replies

Not applicable
Mark as New

Bookmark

Subscribe

Mute
This might be something that is environment specific or with the data... but I can't reproduce it. I've saved a file with a new map in it to my One Drive and its ready to go!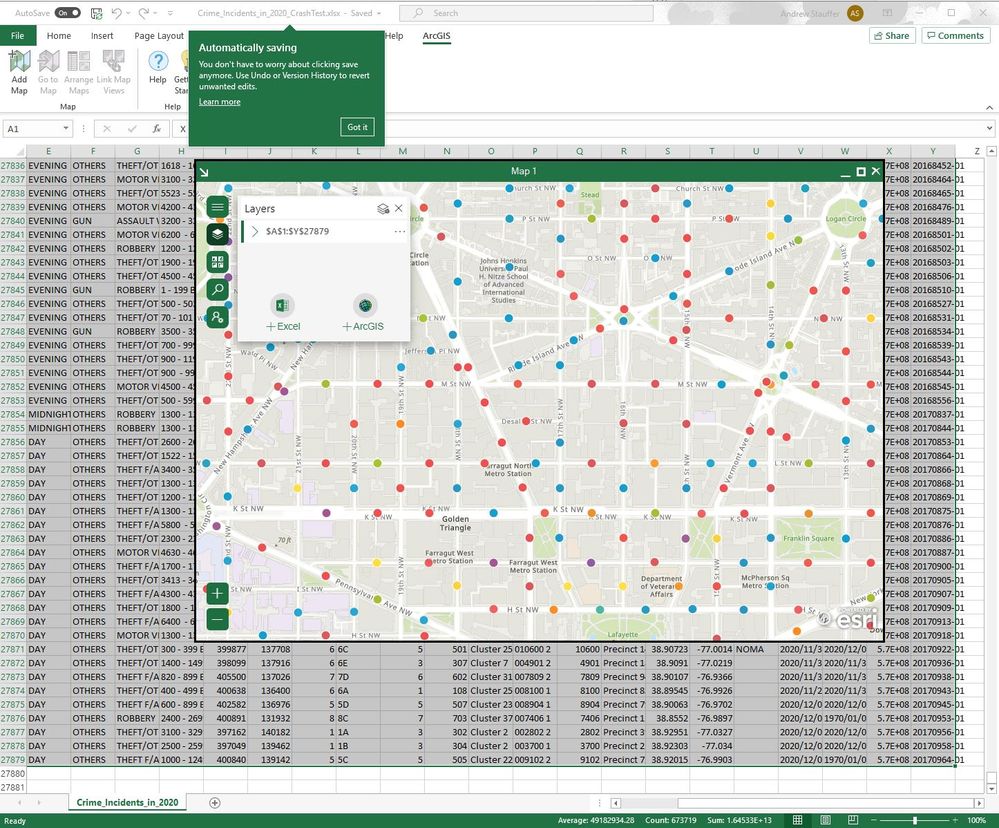 Would you be open to sharing the xlsx file with me so we can do some additional testing, or hop on a call so we can take a look at what's going on?
Cheers,
Andrew

New Contributor III
Mark as New

Bookmark

Subscribe

Mute
Hi Andrew, absolutely. The behaviour is the same, whether or not I have a map - it even does it with a spreadsheet which is completely empty. The only way for me to get it back to "normal" is to de-activate the ArcGIS for Office addin.
What's a good way to look at this together? I'm in Wellington, NZ (which currently is 19 hours ahead of LA).
Cheers,
Tilmann

Not applicable
Mark as New

Bookmark

Subscribe

Mute
Hi Tillmann,
I'm in the Eastern Time Zone, so late in my day is early morning for you and we can to arrange a call next week if possible. Does it matter if you are on the company network or wifi at home?
Did you log an issue with your local Esri Support Team?
Thank you,
Andrew