New Contributor III
Mark as New

Bookmark

Subscribe

Mute
Hi all,
I have run into this issue on both Map Viewer Beta and now Field Maps Beta web app. I am on Portal 10.8.1.
I upload a feature layer of hydrants with a maintenance table to Portal with editing enabled (geometry disabled so people can't move hydrants) to allow for creation of related records in Collector/Field Maps. After uploading, in each web map I disable editing of the feature layer so that the blue + "add a feature" button is not in Collector/FM so that operators cannot add hydrants, but merely add related records. This work flow works using the normal map viewer to change these settings and configure pop-ups.
Whenever I open these in Map Viewer Beta, or in this case, Field Maps Beta web app to configure forms to make groups of inspections in the related table, after saving, it re-enables editing on my hydrant feature layer, adding the option on the mobile apps to add hydrants. This isn't an experience breaking bug for Map Viewer Beta, because I can open the map in the old map viewer, disable editing, then save there and it retains the changes. If I do this after coming from Field Maps Beta, it deletes the forms I've created.
There doesn't seem to be a way that I can utilize any sort of form grouping in Field Maps without opening the ability of people to add hydrants in the mobile app. I don't seem to have the ability to disable editing of the layers in Field Maps Beta...This is a pretty big limitation for us as I have had issues with users adding hydrants with the big shiny add button thinking they are creating an inspection. Help!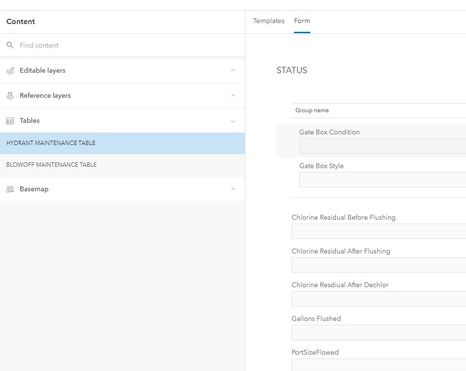 1 Solution

Not applicable
Mark as New

Bookmark

Subscribe

Mute
Based on your screenshots, it looks like you are still using the Beta version of Field Maps for 10.8.1. There are officially released setups available to download and install from My Esri. Documentation is available here: https://doc.arcgis.com/en/field-maps/android/help/enterprise-support.htm
I think you should also get the latest Map Viewer Beta (it should also be available on My Esri). Once those are installed, you should re-test your workflow.
I think both web apps that you have installed currently are using an older version of the JS API (before 4.18) that did not persist the editing capability overrides defined in the map. The current setup for Field Maps 10.8.1 uses version 4.18 of the JS API which includes the fix for this.
9 Replies