New Contributor
Mark as New

Bookmark

Subscribe

Mute
My organization regularly relies on opening attached drawings and photos in a number of different file formats while in the field using android devices. We can zoom in on pdf attachments in Field Maps but zoom functionality does not work for jpg or png files. This wasn't an issue in Explorer or Collector for android or for Field Maps on iOS. Is anyone else unable to zoom in on opened jpg and png attachments in Field Maps for android?
While we can workaround it by saving the attachments to the device and opening it in another app to zoom/magnify, this has been an unwelcome change for my users in the field that has prevented us from switching to Field Maps.
2 Replies

Frequent Contributor III
Mark as New

Bookmark

Subscribe

Mute
I have an application for Arc Flash and Grounding data. The engineers also wanted a PPE Required image to be visible. I attached the image as part of the popup.
The image is saved on the server with the Feature service and the Web Map. I attach the photo to the pop up via URL. If you want to be able to zoom in on it attach is also in the Hyperlink.
When you do that the user can then tap on the image and zoom in and out. I don't know if it will work wite a PDF but it may be worth a try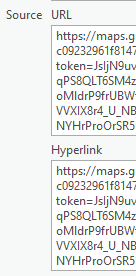 New Contributor II
Mark as New

Bookmark

Subscribe

Mute
Our organization is experiencing this same bug only on Android devices. It seems to work fine on Apple devices.