MVP Regular Contributor
Mark as New

Bookmark

Subscribe

Mute
I'm building an Experience for internal use in our department. The feature services I consume in the maps are not public, but I do have public services (with reduced attributes) for some themes.
I would like to show my colleagues a list of those services in the Experience, so that they can easily send external people to the correct links.
Of course, I could just paste the links to the services into the Experience. But for purely optical reasons, I want to show the service's metadata, too (thumbnail, owner, last update, views, maybe buttons to open in MapViewer etc).
I can do that by embedding the URL to the content of the folder in our portal that contains the public services, like I did in the screenshot with the Living Atlas: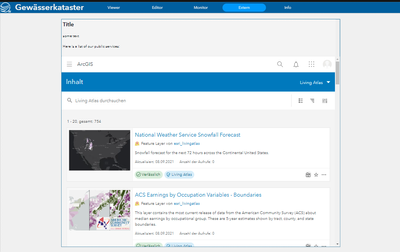 But now I have the Portal navigation bars in there, and I don't want that. Most of my colleagues are completely GIS-illiterate, they don't know and don't care about any other services or the Portal in general (and that's completely OK).
I can hide the navigation bar by giving a background color to the text widget and positioning it above the Embed widget: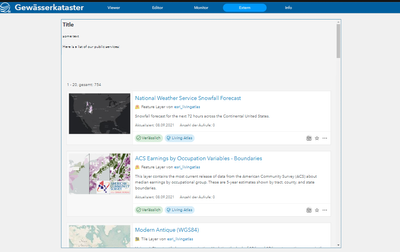 This works and I will use it if there isn't a better way, but it feels (and is) really hacky.
So, my question is: Is there a clean way to show summaries of services (thumbnail, owner, refresh date, number of views, short description) in an Experience?

Have a great day!
Johannes
0 Replies