New Contributor
Mark as New

Bookmark

Subscribe

Mute
This has been brought up previously within the ArcGIS Experience Builder Questions community, but nobody has provided an adequate answer. When sharing a direct link to an Experience (either the link copied from the URL bar while viewing a publicly shared Experience or a link generated using the link share widget within the Experience) via Facebook, it appears that Facebook cannot find any OpenGraph (OG) metadata specific to that Experience. So this is what the link share looks like:



Considering that many Experiences are made to be shared with people via social media apps like Facebook OpenGraph protocol, it seems that there should be an easier way for us to edit metadata to better control how Experiences (and potentially items created using Web AppBuilder, etc).
Here's all of the information Facebook was able to scrape per its link debugger: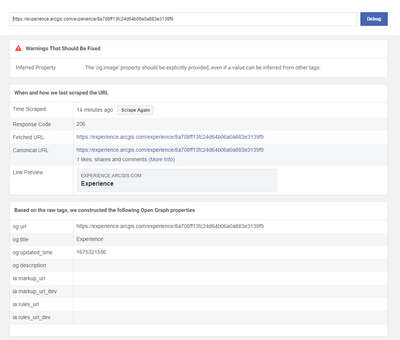 This particular Experience has a title and a thumbnail when looking at the AGOL item homepage, but when sharing a direct link to the Experience itself (which is the link that really needs to be shared in this case) is where the problem occurs most prominently. Facebook simply isn't finding any OG tags with the Experience link. Interestingly, however, when sharing a link to the AGOL item homepage, Facebook successfully fetches the title (but not a thumbnail despite there being one). But again, sharing a link to the item page instead of to the Experience itself is not the end goal here.
As stated above, this appears to be a known issue. Someone reported it and asked questions about it back in February 2021, nearly two years ago as of the time of writing this post.
Am I missing something? Can we, in fact, edit OG metadata for items created using Experience Builder, and specifically in a way that allows sites like Facebook to fetch information via a direct link to the Experience rather than the AGOL item homepage? Or is there another fix that just isn't well-known?

Any help would be appreciated.
1 Reply
New Contributor II
Mark as New

Bookmark

Subscribe

Mute
Agree! This needs to be updated. Otherwise the sharing buttons are not at all useful. Any updates on when/if this will be addressed?