Occasional Contributor
Mark as New

Bookmark

Subscribe

Mute
ArcGIS Enterprise 11 now allows for custom widgets to be used directly in ArcGIS Portal's Experience Builder. In testing this, we discovered that if an Experience Builder app is built using a custom widget, and then later that custom widget is deleted from the Portal's content, the Experience builder app will be rendered useless and need to be deleted and recreated from scratch.
I understand how something that was deleted could no longer be accessed, but why cause then entire app to no longer function rather than having the ability to "remove" or "repair" the individual item (in this case a missing custom widget)?
Instead, we get the full screen error message below:
CONT_0001: Item does not exist or is inaccessible.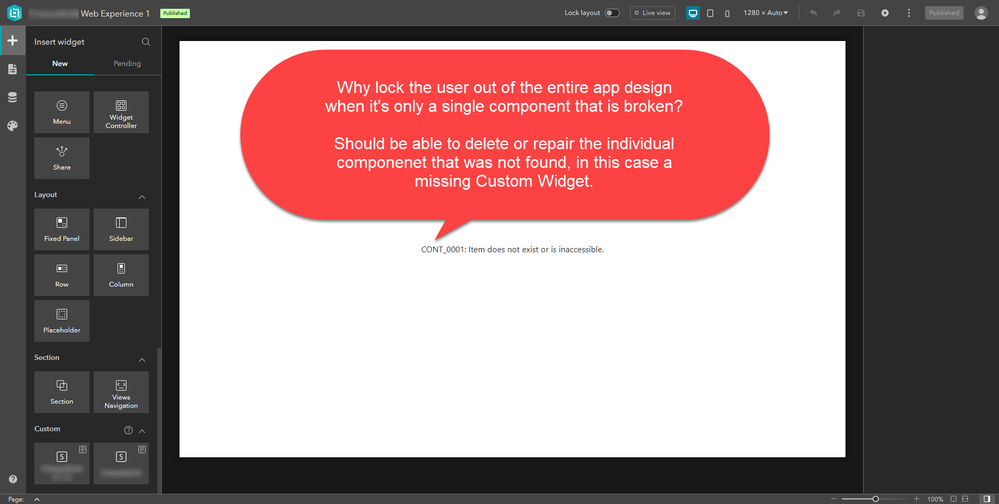 2 Replies

Esri Contributor
Mark as New

Bookmark

Subscribe

Mute
Hi Tim,
The issue is caused by the itemId in the configuration of the Experience. If you use something like ago assistant to view the JSON configuration, then you can modify the configuration and remove the itemId of the widget. This will then allow the experience to load and just give a Fail to load message where the widget used to be. This way at least you can get in and tidy up the widget, with out having to recreate the experience.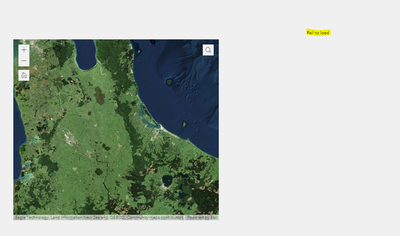 Occasional Contributor
Mark as New

Bookmark

Subscribe

Mute
Grant,
Thank you for the workaround that you suggested. While this is a valid way to get things working again, it is unnecessarily complicated as we would have to instruct our customers (most of which are not programmers or well versed in this technology) on how to fix this. I recommend as an improvement to the user experience that the next release of the Experience Builder application will display the result of your last screen shot to begin with by automatically handling the itemId of the missing element as needed. That seems like a very manageable thing to do programmatically by Esri to save your users more time with less frustration. Thank you again for the response.