Occasional Contributor III
Mark as New

Bookmark

Subscribe

Mute
I've only spent about an hour playing with Experience Builder and I'm going to have to switch gears before I "waste" the whole day, but I really like what I see so far. Some of the individual comments don't feel significant enough to start their own discussion just for one thing, so I thought I would start a thread here for general comments & feedback.
* List Widget - I set up actions to pan & zoom a map when a feature is selected on a list. Functions great, except you can't click/select the feature when you're hovering directly over the text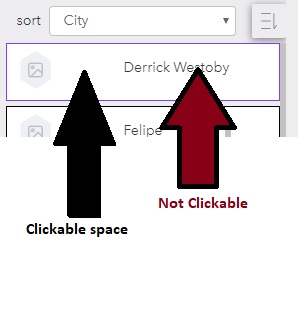 * I loaded up a scene layer with some of the heaviest data I had (drone imagery & state-wide taxlot features) and received an error when trying to preview it in the builder. Nothing surprising, but would it be possible to implement a feature to omit certain layers if load times exceed X seconds?
* The Survey123-specific widget is great and seems like it works a little smoother than the way I have it displayed in operations dashboards right now. Did I notice that the relevant column is functioning as intended when using this widget (but not the web form)?
* Survey123 embedded in a dashboard has been the best way I've found to allow people to add features directly from a dashboard's interface. Will there be more support for adding/editing features or digitizing in the Experience builder platform (or am I missing options already available)?
Thanks, I'm sure I'll be adding more as I have more time to play with this. Looking great so far.
0 Replies