New Contributor II
Mark as New

Bookmark

Subscribe

Mute
Hi, are the "maximize" buttons only available in widgets in the Launchpad theme? If not, how do I enable them? I'm referring to the button in the attached image.
Do I have any option for adding or enabling this functionality in an existing page or widget?
Thanks!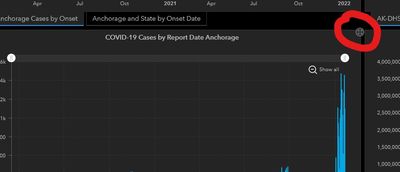 3 Replies

Occasional Contributor
Mark as New

Bookmark

Subscribe

Mute
Hi geckoberyl,
I could be wrong, but it looks as if what you are referring to in the image is actually within ArcGIS Dashboards. I have not yet seen it in Experience Builder, but would LOVE it. I have created a workaround that isn't great. I've added a button that looks like the button you show in your image, that I have attached to a full screen version of the section. This means I need to maintain two copies of the same thing. Works fine for small dashboards but quickly becomes unsustainable with larger implementations. If I find time I will send some screen shots or even an example page.
Would love to hear from Esri if this is something that is on the roadmap. This is an awesome toolkit, but still young. 🙂
Kevin Wright
Data Visualization Enthusiast

New Contributor II
Mark as New

Bookmark

Subscribe

Mute
Thanks for the reply and the workaround advice!
I think this functionality IS in the Experience Builder judging by the url of the example I sent...unless "experience" can be in the url of a dashboard? This does look like a dashboard to me:
https://experience.arcgis.com/experience/1e098d1eec9f49d38763c5561923a5b5
(or is it an experience with one page that includes a dashboard?)

Occasional Contributor
Mark as New

Bookmark

Subscribe

Mute
I got excited for a moment until I opened it in the development environment and noticed that it is just an ArcGIS Dashboard embedded in Experience Builder.
Sadly, I don't think a lot of the functionality of Dashboards are available yet in ExB.
Kevin Wright
Data Visualization Enthusiast