Mark as New

Bookmark

Subscribe

Mute
Hi there,
We'd really like to see some of the Smart Editor widget and Edit widget from WebApp Builder brought into Experience Builder. We're working with farmers to enable them to map their current farm layouts and then plan what it could look like over the next 30 years.
It's cumbersome to have to redraw/adjust the layout multiple times. If we could get them to copy what's already been made and then split or merge polygons from there, that would save a lot of time for them and make our product more appealing to use, especially for these users who are not GIS people. These features are usable in WAB, but they don't have the conditional visibility at the level we need that ExB has.
In addition, the ability to draw a circle out right via the Edit Widget in ExB would be a game changer for them as their are lots of pivots on farms!
This takes 8 clicks in ExB to draw, and it still isn't exactly what we want.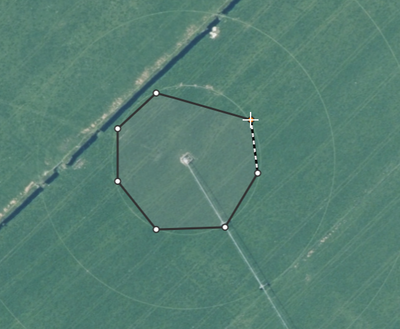 In WAB's Edit widget, this takes only 1 click and it's perfect (geometry wise)! Attribute conditional visibility is missing though.
Please consider adding in these improvements. It would definitely up the usability of the Edit widget in Experience Builder! If we could hide feature to feature and geometry guides from the user, but have it turned on from the back end, that would be great too.
4 Comments
You must be a registered user to add a comment. If you've already registered, sign in. Otherwise, register and sign in.