Occasional Contributor III
Mark as New

Bookmark

Subscribe

Mute
I have an authorized license of ArcServer running that doesn't expire until 2018.
I am attempting to make a database connection in ArcMap and I get this: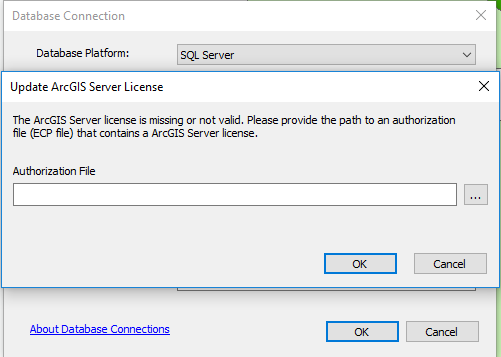 Thing is, I was able to make database connections from ArcMap about a month ago no problem, and I haven't touched the Server to upgrade or authorize or do any of that kind of thing at all over the past month. This also is only happening when I try to connect to one specific database on our SQL Server, the other ones connect no problem. When I insert the current keycodes file, the operation fails and gives me this error: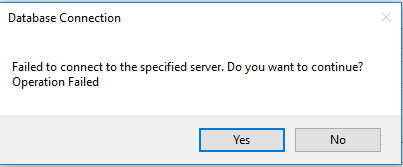 I don't understand why it will not connect to this database. Anybody have any ideas?
Using Desktop 10.5, ArcGIS Server 10.4.1, and somehow our SDE geodatabases (the ones I can connect to) are 10.3.1 when I look at "Upgrade status" in the database properties dialogue box.
1 Solution

Occasional Contributor III
Mark as New

Bookmark

Subscribe

Mute
I answered my own question as to why this is happening only to one of our database tables. The database I'm trying to connect to is a testing database - it's a copy of our production database. This means, the person working with this data (before I came into this position) made a copy of the production database, and then "restored" the new copy where they renamed it to something to indicate it was the test database during the restoration process. You cannot rename geodatabases and have them work in ArcGIS as per documentation here:
Methods to move a geodatabase in SQL Server—Help | ArcGIS Desktop
I determined this problem by looking in SQL Management Studio at the test database's "SDE_table_registry" table, where I found the "database_name" field contains the original name of the copied database and not the name of the test database that the table is held in.
So for example, if I copy MyDatabase and rename it to MyDatabaseTest, the SDE_table_registry table will still contain "MyDatabase" in the "database_name" field.
8 Replies