Regular Contributor
Mark as New

Bookmark

Subscribe

Mute

Email to a Friend
Hi,
need to clarify things regarding map caching as I need to solve a performance problem:
Server 10.2
Map published as a service, cashed till tile 19 (1:1128) AGOL cache.
The data and map (mxd) are all in WGS84 (I need this as it better this coordinate for data).
The service is published in Web Mercator as I need this for a AGOL service to work.
The service is used by an app.
As soon as I zoom in too close (different tiles for imagery and topographic) the message "Map not available yet" appears.
Now, what is it better?:
Recreate the tile in a custom mode: I have realized that if I delete the cache and I tile again from the service properties I can change the tile scheme and tile the map as I want. The map is still in Web Mercator and the tile are customized (tested on another service).
Remove the tile and use the dynamic data.
Limit the zoom with an app customization (QT) (no idea if I can as I don't make code, I would ask if is it possible).
I would go for the first one but I am worried that I can mess something with that. Any idea?
Limit the zoom on a map can work?
Thanks.
1 Reply

by
AdamZiegler1

Esri Contributor
Mark as New

Bookmark

Subscribe

Mute

Email to a Friend
Hi - Ideally the App would recognize the cached map service as a basemap and stop you from zooming in too far. If this isn't an option, you could add zoom levels without completely overhauling your cache. In the Server Tools --> Caching Toolbox you can use the 'Manage Map Server Cache Scales' to add or delete cache levels.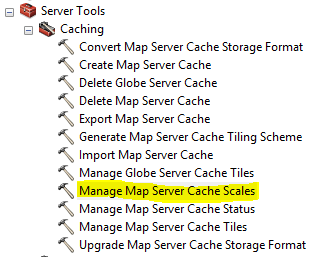 -Adam Z