New Contributor II
Mark as New

Bookmark

Subscribe

Mute
Hi
Last Friday we installed Enterprise Sites 2 Patch on our 10.6.1 ArcGIS Enterprise instance and now it seems to be broken.
We have Portal and Server federated and Data Store. All software are installed in the same server machine on our network.
We use two different Web Adaptor one for Server (named: server ) and one for Portal (named: portal).
The patches we have already installed are: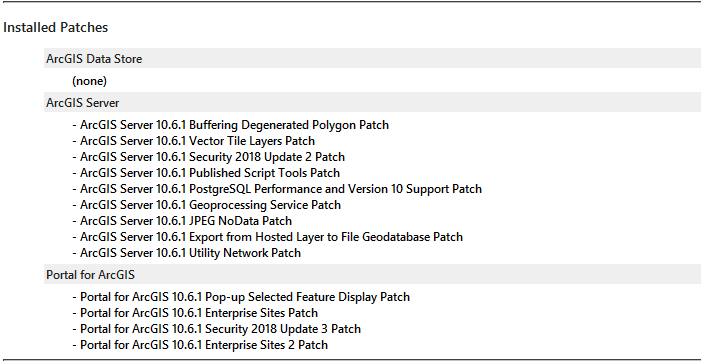 Our server is exposed both on intranet and in public network with two different addresses and on the same machine there's the Internet Information Services (IIS).
At a first look the problem may be with the WEB Adaptor of Portal, when I call my portal address with my web adaptor (https://MachineName/portal/home) the browser is automatically redirect to https://MachineName:7443/arcgis/home accessed without web adaptor.
When I try to reach form outside my Server (https://MachineName/portal/home) I successfully do, but when I try to login the browser send me back:
Unable to load https://MachineName/portal/sharing/rest/portals/self?f=json status: 0
And I'm not able to insert my credentials.
I'm able, instead to reach both admin interfaces of Portal and Server with webadaptor addresses.
The security configuration of the Server are:
| | |
| --- | --- |
| Authentication tier: | ARCGIS_PORTAL+ |
| Authentication mode: | ARCGIS_PORTAL_TOKEN |
When I look at webadaptor configuration in the HOST machine all seems to be OK

I also try to reconfigure the web adaptor but with no success.
Before the patch installation all seemed to be right ...
I must say, Honestly, that in the last week our IT made same changes in the network configuration (Proxy and Firewall), and probabilly from these changes we had not restart yet the portal and server services.
Before disinstall the patch or re-install webadaptor or review the federation, I ask for some helps.
Thanks
Pierpaolo
5 Replies