Esri Regular Contributor
Mark as New

Bookmark

Subscribe

Mute
The way to license named users was changed in 10.7 so many licenses are coming in a json file that you need to load into the Enterprise.
There is a BIG problem that loading the file REPLACING all the previous content.
If you created users for 4 different levels, pro users, application users and you need to add one more Drone2Map user (for example) you have to create a new json file with ALL the licenses. Some of them are marked used and you need to restore them.
Am I missing something?
With old licenses each product was separated from other products (floating license) and can be replaced without touching other licenses??
1 Reply

Not applicable
Mark as New

Bookmark

Subscribe

Mute
Hi Mody,
You are correct that the Enterprise portal just needs one license file now at 10.7. If you need to add to your existing file, you will need to cancel your existing file and re-license a new file containing users, apps, ArcGIS Pro licenses, and any other licenses related to your portal.
My Esri now supports the ability to edit a license to assist with this workflow. By editing, you cancel your existing file and free up licenses to use.
To edit, go to Manage License Files > Licenses Related to Portal for ArcGIS > select Details next to your license > select Edit Licensing File: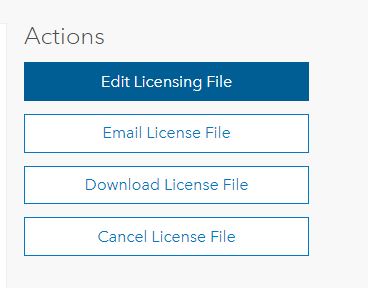 You will get a pop-up to agree to cancel the file and then the license file's configuration will auto-populate with the licenses you had, so you can add new ones.
Hilary
Update: Here is a link to a blog outlining the workflow: https://community.esri.com/community/my-esri/blog/2019/03/27/updates-to-manage-license-files