New Contributor II
Mark as New

Bookmark

Subscribe

Mute
Hi esri help desk,
I am HPC facilitator and I am helping GIS group to install ArcGIS Server to our supercomputer (Running CentOS8 Linux). I have downloaded and installed the arcgis_server_81 to our CentOS8 server.
However, I cannot install arcpy as in the following link: anaconda.org/esri/arcpy, because the conda install command is only available for window system (you can clearly see the one inside), and not for Linux. I can use that command (conda install -c esri arcgis) to install arcgis without any problem for our CentOS8.
Now, I played a trick by pointing the os working directory to the location where I installed arcgis_server_81 and I can run the following command in terminal python console without problem, except the last command (it seems to be very simple command)
>>> import os
>>> os.chdir("/software/arcgis_server_81")
>>> import arcpy
>>> arcpy.ResetEnvironments()
Traceback (most recent call last):
File "<stdin>", line 1, in <module>
AttributeError: module 'arcpy' has no attribute 'ResetEnvironments'
Please note that I can run this last command in my ArcGIS Pro python terminal in my Window system without any problem, so I believe the syntax is correct.
Any idea will be able to help.
Thanks a lot
1 Solution

New Contributor II
Mark as New

Bookmark

Subscribe

Mute
I found the solutions.
The error is not from the installation process but from the authorization process between ArcGIS Server and our computer cluster.
What I did was to login into my.esri.com using school username, create license files and download it. In /arcgis/server/tool/, use the authorization tool to configure the license file with "correct" address that I was registered with ESRI. Once the authorization process done, the following screen appears and I am able to import arcpy using conda environment created in the prior steps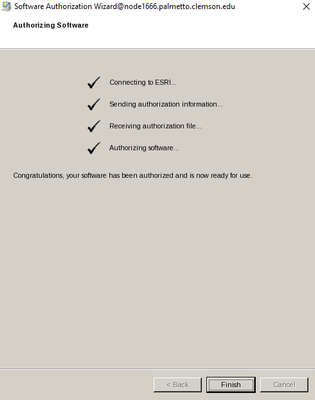 5 Replies