Occasional Contributor III
Mark as New

Bookmark

Subscribe

Mute
Greetings,
I have an AGS 10.3.1 with map services using registered database connections to a colocated Oracle 12c Ent. database as resource that has been working just fine for months. It uses windows authentication with web administration configured thru a webadaptor on a federated network. I'm not sure what's causing it but I know that several Windows updates were pushed to it within 24 hrs before the issue appeared. The Oracle Database was also patched with an Oct '17 patch a day earlier, but was rolled back after the issue appeared (to no avail).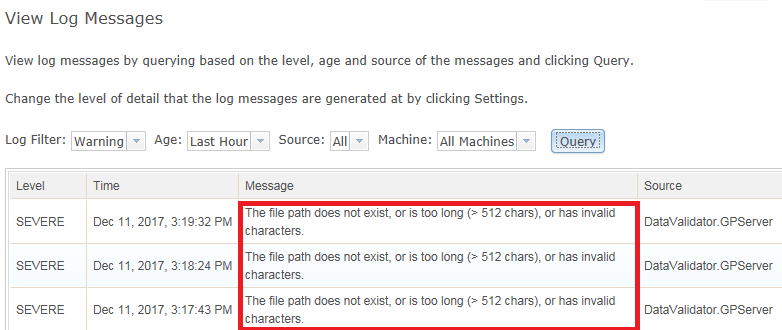 The AGS can no longer validate the registered databases connections it has contained and provided its services with for a long time thru the Manager. ArcCatalog can still connect to the database using the very same SDE connections it created to registered connections to the AGS. It can even create new ones just as well. It can also connect to the AGS as usual to access server properties.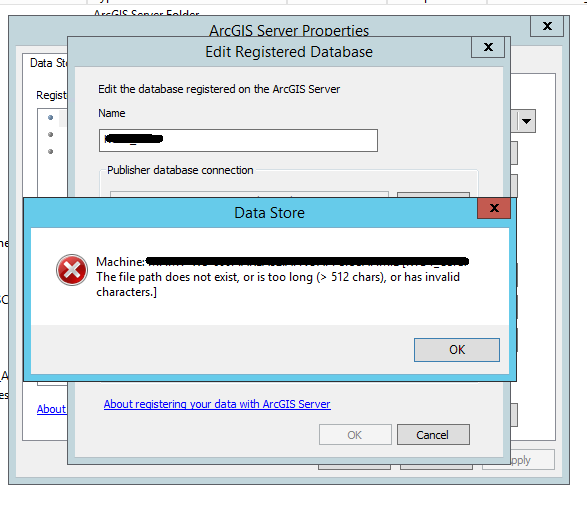 However, ArcCatalog cannot edit the registered database connections without running into the same issue. It cannot even replace the failing connections with the ones it can connect to the database with because, as it appears, AGS can no longer use them. To be thorough in my question, Desktop is also installed on the same web server, so the server has both 32bit and 64bit Oracle client software deployed, and the 64bit is shown first on the PATH values. Recall that it has worked as-is for awhile.
I've searched for "The file path does not exist or too long (<512 chars), or has invalid characters." and found little info with resolution that would solve this. Any ideas?
Thank you in advanced.
1 Solution

Occasional Contributor III
Mark as New

Bookmark

Subscribe

Mute
Sorry for the delay in reporting resolution to this anomaly. After applying all Windows updates to the server and all ArcGIS for Server patches for that version, and further completely uninstalling and reinstalling both ArcGIS for server and Web Adaptor, the issue disappeared. I suspect it also helped to migrate the associated data from an Oracle Plug-able database to a non-container database as recommended by ESRI support.
4 Replies