New Contributor II
Mark as New

Bookmark

Subscribe

Mute
Hello all,
I've been doing a base installation using ArcGIS Enterprise Builder 10.7.1, but hit a point where the Configuration Wizard appears frozen on the "Register Data Stores with GIS Server" task (it has been like this for about 8 hours):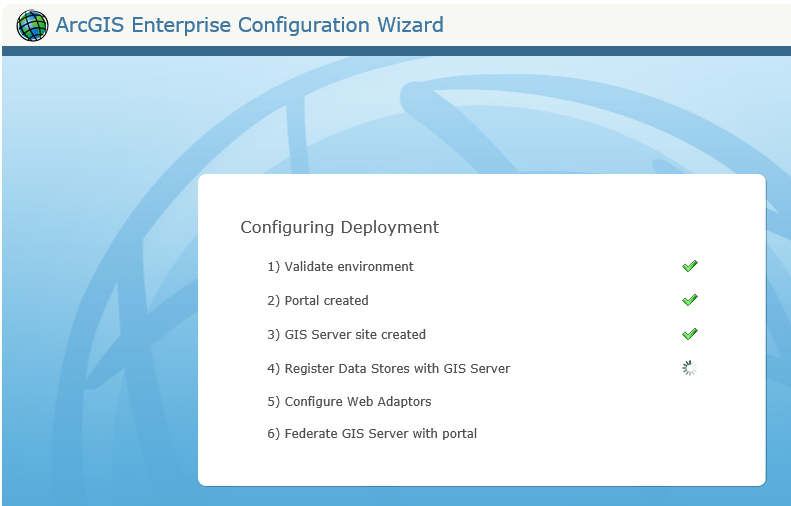 The install is on a completely fresh Windows Server 2016 VM, and the only bit where I've made any change from default in the installation process are changing the install location to a non-system drive: D:\Program Files\ArcGIS
When asked for the content directory, the default was D:\arcgis. I checked and the installation had already created this folder with a small amount of items in there, but I still accepted that location assumed the default would be best.
The only bit of the installation which had gone non-standard was that I had to run the Software Authorization for ArcGIS Server wizard part way through. But it happily continued with the installation after that.
Does anybody have any ideas for what could be going wrong to cause this freezing up, or any pointers of which log file should be providing the best troubleshooting info? Or maybe what I should check for to see if the installation is actually doing something in the background?
Many thanks!
Ben
1 Solution

Esri Community Moderator
Mark as New

Bookmark

Subscribe

Mute
Hi Ben,
You can do some validation in the Portal Administrator's directory, by running the Validate Servers operation. Here's some documentation on this: Validate Servers—ArcGIS REST API: Administer your portal | ArcGIS for Developers
The workflow to do this, in a nutshell, is:
Go to your Portal Admin endpoint (The URL is typically: https://<your portal URL>/arcgis/portaladmin)
Click on "Federation"
Click on "Servers"
Click on "Validate"
This does a series of validation checks for your deployment, and will return any issues if encountered.
Furthermore, you may wish to go into ArcGIS Server Manager and validate your ArcGIS Data Store from there. The link to the workflow on this can be found here: Register your data with ArcGIS Server using Server Manager—Manage data | ArcGIS Enterprise
That installation time which you experienced is definitely out of the ordinary! I'm not sure what could have caused this in your environment, but I do recommend running the above validation checks to make sure everything was installed correctly. Following those validation checks, doing some tasks such as publishing a test hosted feature layer will also help to ensure that everything is working correctly.
4 Replies