Occasional Contributor II
Mark as New

Bookmark

Subscribe

Mute
I'll try to be brief regarding the current issue below but I've run into so many hurdles getting to this point, I illustrated it in the attached schematic.
Bottom line is this: I have a basemap web map (shared here) created using Map in Enterprise Portal, added it to a Group (called Base Maps), and set it as my default basemap in Portal (Organization > Settings > Map > Default). The basemap web map has a cached web layer set as the "basemap" and other cached web layers (all created using ArcGIS Pro). All layers are shared in the Base Map Group and in my ArcGIS Workflow group.
Problem: When I open the dispatch map of the Workflow project, only the "basemap" layer of the basemap web map appears in the map. The other cached layers added to the basemap web map that were defined as my default basemap do not appear in the dispatcher map. I can add each of these missing layers individually to the dispatcher map but then I'd have to do this every time I spin up a new Workflow project (x2 - for the worker map).
Question: Why don't all layers in a basemap web map get added to a ArcGIS Workflow map? Is by design or is there some way to get all layers in the default basemap to appear in a ArcGIS Workflow map?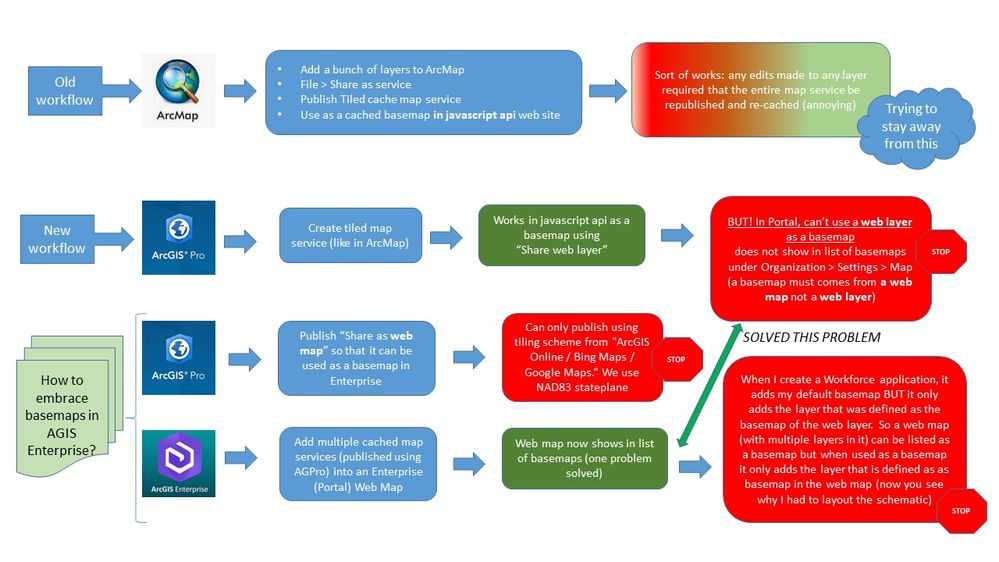 1 Reply

Occasional Contributor II
Mark as New

Bookmark

Subscribe

Mute
One more thing. I just noticed it's not an ArcGIS Workflow issue. It happens when I open a blank AG Pro map. Only the basemap in the default basemap is added. None of the other layers in the default basemap are added to the map in AG Pro.