Occasional Contributor III
Mark as New

Bookmark

Subscribe

Mute
I recently removed the HTTPS Only setting from our Development Portal's Security Setting: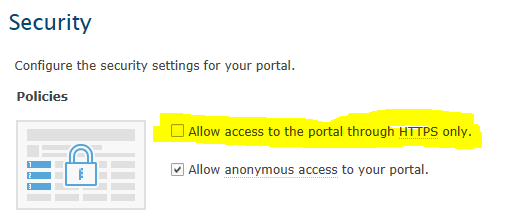 I needed to play with some data from our local city GIS and it's only published with HTTP.
Some issues have occurred that I'm trying to understand.
When I did this, I started pulling 403 Forbidden Access issues when I went to http://myFQDN/portal/home/...
I realized the issue here is that my web adaptor is setup for HTTPS and I'm going through the WA.
But when I try to access via the 7080 port:
http://myFQDN:7080/arcgis/home/organization.html
the browser immediately jumps to the https address associated with the web adaptor.
Is this a function of the Portal setup files?
Or is this a Browser issue? I'm using IE11, Win 7 and I've cleared the cache multiple times.
Is there a Portal cache that needs clearing?
Is the proper thing to do here to setup another web adaptor for the HTTP only mode?
Will that then allow you to access Portal via HTTPS or HTTP via the web adaptor?
I assume I just have to have a separate name for each WA as well as separate port addressing.
Except, it occurs to me that Portal is not like AGS, you cannot install multiple WAs for Portal.
Edit: I did this try this and it failed.
Seems like once you setup a secure Web Adaptor, you're committed to that setup or do I go back to that original WA and modify it's configuration.
I certainly seems that removing https only is not as simple as just unchecking the above box.
This is a DEV Portal so I can try various configurations but I'd prefer to avoid total voodoo programming and have an inkling of what I'm doing and how it will come together.
1 Solution

Esri Notable Contributor
Mark as New

Bookmark

Subscribe

Mute
Portal does support http and https when the option for Allow access over SSL only is disabled. It requires https to always be available for the sign in pages. Paul, if you were to create a new virtual directory within IIS and navigate to it over http and https, do both work? I'm wondering if this is a problem in IIS, rather than the Web Adaptor. Can you provide the exact code for the 403? For example, 403.4, 403.5, etc, (list of them can be found here, I apologize for the wikipedia source).
7 Replies