Occasional Contributor
Mark as New

Bookmark

Subscribe

Mute
Hi all,
I'm neither a Data or Server dude, so forgive me if this doesn't make sense 🙂
I have an Enterprise database (sde not versioned) with layers that I have added to my Portal via the Data Store option. I have added the Data Store as an item in my Portal, and then created Feature Layers from that Data Store.
Then I have created a Site with Pages and added the Feature Layers with different solutions; Category etc.. But in none of the ways I have added the layers, are they available for Download.
There must be some settings either on the Server or on my Sites/Pages that I am missing. I have sent the issue to the national distributor in Denmark, and they have tried setting it up themselves, and it works for them. But they cant figure out why it is not working at my end.
The server is federated and the version is 10.8.1
The below image is what I want: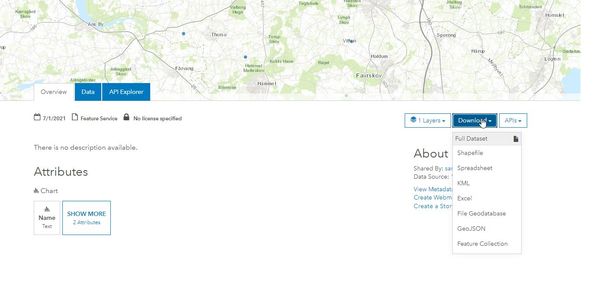 What I want
This Is what I have:
What I have
This is the settings I have applied in the Server Manager: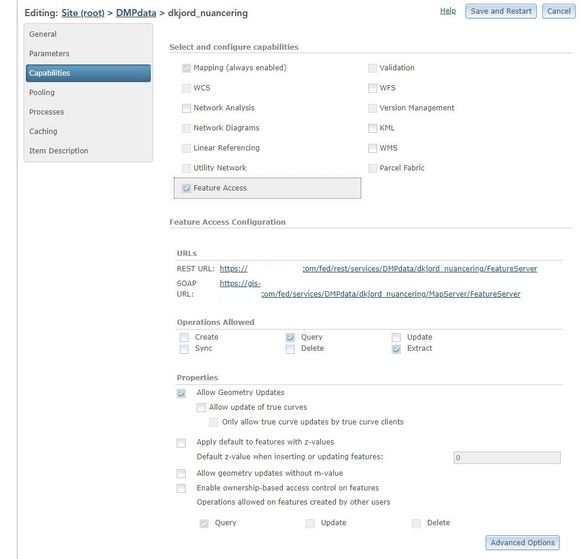 2 Replies

by
jcarlson

MVP Esteemed Contributor
Mark as New

Bookmark

Subscribe

Mute
We ran into this issue as well. As far as I can tell, clicking that button is equivalent to the "Export Data" button in the Portal: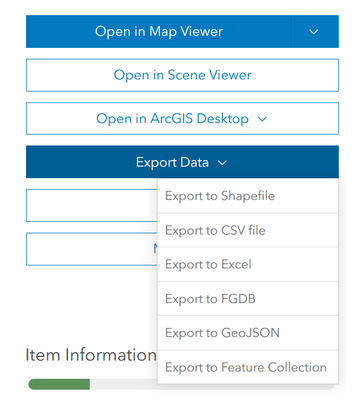 If you've ever clicked one of those options, you'll know it doesn't actually download the data directly. Rather, it creates a new item in your portal, and that is what you can then download.
The heart of the issue is that in order for that export / download to work, the user doing so must have the authority to own content items in your portal. If their user type doesn't include that right, or they're an anonymous visitor to your Site, then the "Download" button isn't going to work for them.
Workaround
If you create a page on ArcGIS Hub, the download button there works. The catch is that you need to come at it from ArcGIS Online. To do this:
Create a group in both Portal and AGOL
Create a collaboration between Portal and AGOL using these groups
Create a Hub Site which looks at the AGOL group for its content
In the Portal, share all the "to-be-downloaded" items with the new group
- Josh Carlson
Kendall County GIS

Occasional Contributor
Mark as New

Bookmark

Subscribe

Mute
Hi Josh,
Thank you for your reply. Good point with the owner part - I hadn't actually thought of that. Luckily our users, who is internal users, all have the possibility to become more than Viewers, so it should not be an issue.
However in my case, I'm an administrator in our organization, I'm the owner of the data and creator of the Site and Page, so I should be able to download (create item as you say)..
In our organization, we already have Sites up and running in several instances, and the policy is to continue with this option, since it is better directed for internal use than the Hub, which is great for involving the general public. So the workaround, which is a good solution, is not an option for me I'm afraid. 🙂
Thanks again Josh.