by
ChrisAdams

Esri Contributor
Mark as New

Bookmark

Subscribe

Mute
After setting up Portal for ArcGIS 10.3 to use SAML with AD users, we are unable to create an ArcGIS Server connection in ArcMap. Has anyone else come across this?! All other admin functions work; we can sign in to ArcGIS Server Manager with our AD credentials, we can log in to Portal fine. I tried creating a token directly but this fails as well:
https://<machine name.domain>/arcgis/sharing/generateToken
"Invalid username or password"
I am definitely not entering an incorrect username or password, unless the username format is wrong. I have tried:
DOMAIN\username
domain\username
username
portal username
The token is only generated successfully for the initial admin account.
I can log in to the the portaladmin site and search on enterprise users. Correctly, my username shows up but for some reason, ArcGIS Desktop is not authenticating AD users. It does authenticate against the initial admin account absolutely fine.
Authentication worked fine before using SAML, i.e, using AD users and federating with Server.
1 Solution

by
ChrisAdams

Esri Contributor
Mark as New

Bookmark

Subscribe

Mute
This is possible in 10.3. After retesting, the reason why I didn't get the SAML login box was because I was trying to enter my credentials in the authentication box. This is not what you do. You need to leave these fields blank, and also untick the box 'save username/password'. Click 'Finish' and you should be prompted with the login box: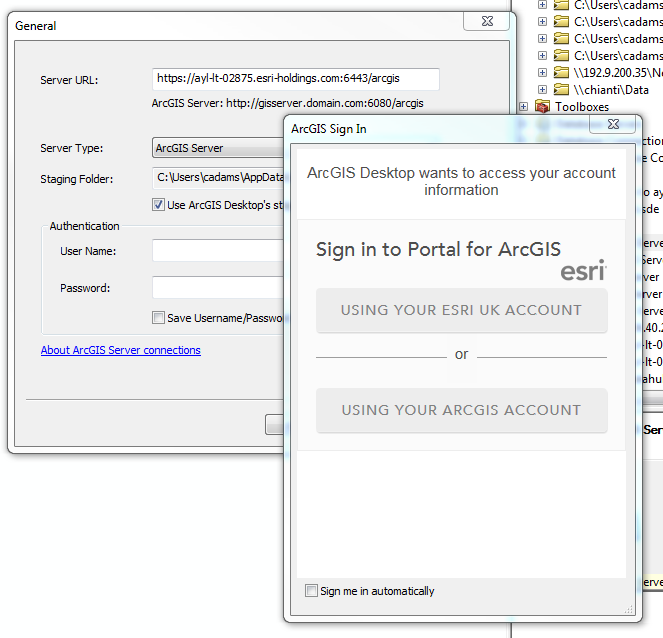 Here is another troubleshooting tip if your sign in box does not appear:
Check your Internet Explorer group policy settings. These could be preventing JavaScript from running in Internet Explorer. ArcGIS for Desktop uses Internet Explorer ActiveX control to login to Portal which in turn redirects to SAML IDP login when Portal is configured to use SAML. If the SAML login page has any embedded JavaScript and the Internet Explorer policy is preventing this JavaScript from running, the login will not work. To work around this, either change the group policy to allow JavaScript in IE, or change your SAML login page to a pure HTML form.
8 Replies