Regular Contributor
Mark as New

Bookmark

Subscribe

Mute

Email to a Friend
Whenever I install a new version of ArcGIS for Desktop, especially new full or dot releases, I try to completely uninstall the previous version. Consequently, today when I realized ArcGIS 10.4 Pre-release for Desktop was available I decided to uninstall 10.3.1 and then install that. I removed the CSW Clients for ArcGIS Desktop first, and that went smoothly.
However, when I tried to uninstall ArcGIS 10.3.1 for Desktop, I encountered the error below which I posted about at Avoiding Error 1325 EsriPyFldr not valid short file name when uninstalling ArcGIS for Desktop? - Geo... .
While waiting for an answer I started to try a few things like: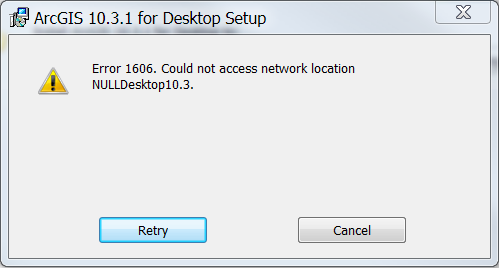 installing 10.4 pre-release over 10.3.1 - it blocked me at
I suspect that my only way forward will be if there is some utility available to wipe all traces of ArcGIS 10.3.1 for Desktop from my system. Is there one?
My environment is: Windows 7 SP1, and besides ArcGIS 10.3.1 for Desktop (which seems to still be working fine), the other Esri software on it is ArcGIS Pro 1.1.1 and ArcGIS Earth Beta.
1 Solution

Regular Contributor
Mark as New

Bookmark

Subscribe

Mute

Email to a Friend
The way that I was able to get past this indirectly was by focussing on an error that I received when trying to reinstall 10.3.1 over itself:
Error 1606. Could not access network location
NULLDesktop10.3.
At Error 1606: Could not access Network Location NULLDesktop10.0. I found a post by Konstantin Glazkov:
Recently I had a same problem. I have removed from the register:

HKEY_LOCAL_MACHINE\SOFTWARE\Wow6432Node\ESRI

аnd it has helped me.
I did the same and then was able to reinstall 10.3.1 over itself.
I was then able to install 10.4 Pre-release over the top of 10.3.1.
11 Replies