Occasional Contributor III
Mark as New

Bookmark

Subscribe

Mute
I am using Operations Dashboard with Portal for ArcGIS. I have specified the extent for my OpDash map in the 'edit' page within Portal. The problem is when I open my OpDash, the map does not automatically display. I have to zoom in before the map will appear. I can then zoom out to my defined initial extent and the map remains visible. It just will not automatically show (no matter what the extent) when the OpDash loads.
Has anyone else experienced this phenomenon?
ETA: On a related note: When I click on the little house for the initial extent, the map zooms slowly out and then disappears even though the map is visible if I manually zoom out to the defined extent.
1 Reply

Occasional Contributor III
Mark as New

Bookmark

Subscribe

Mute
I have now noticed something else about the extent. I have been using a map with my company's basemap. I have now created a new OpDash map with my original map (Map Co) linked with another map (Map Esri) that uses the same data but with Esri's basemap. If I link the 2 maps together, then both maps will appear when opdash is opened but with different extents. Map Esri usually displays the defined initial extent, Map Co is zoomed too closely. Both maps in Portal have the same exact defined extents.
With the maps still linked, if I 1st click on the initial extent in dashboard for Map Co, the map will zoom to the basemap's full extent and Map Esri is always zoomed out past the initial extent. Then, if I next click on Map Esri initial extent, Esri zooms to correct extent but Map Co zooms in far too much.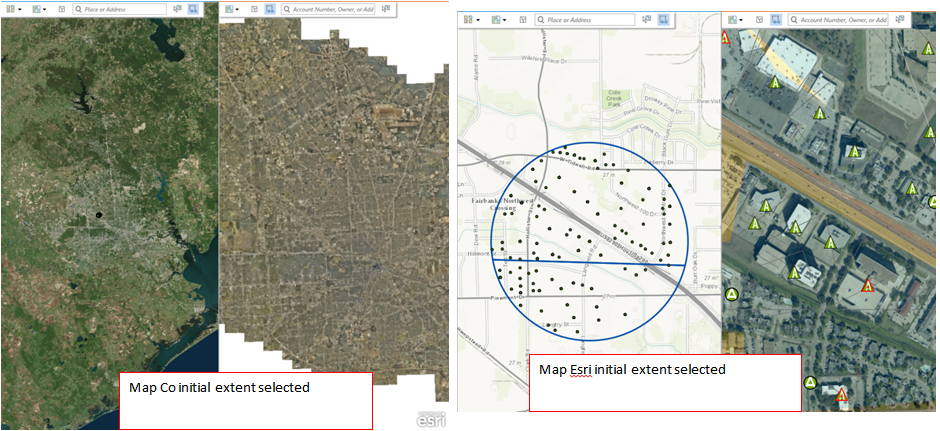 Also, without the maps linked, and Map Co not loading, I have noticed Map Co will suddenly appear and zoom all the way out to the maximum extent of the basemap when I click to enter the "edit operation view". After the basemap extent has been displayed via "edit" method, the basemap extent will always appear when the home button is clicked. However, if I just zoom in to a location and make the map appear that way, then when the home button is selected Map Co just disappears.
I would definitely like to find some kind of solution to the problem that allows me to keep using my company's basemap(s).