New Contributor III
Mark as New

Bookmark

Subscribe

Mute
Hello, my client is not happy when her Chrome even Incognito (or other explorers) crash during configuration of a large point data feature service layer. If she is lucky and patient enough to save every configuration step she makes, the element works as expected! It is just the configuration phase for such large amount of preview date "kills" the page. There are no errors in F12 Chrome console. Especially when trying to name the title of x or y axis that gives problem almost with 100% accuracy.
The serial chart Categories are from Grouped values and are split by field, statistics are used, there are multiple (around 20) different series used.
maxPaginationRecords in the JSON for the dashboard, has been updated to 100k instead of 50k, but that did not solve the crash.
This is the error she gets: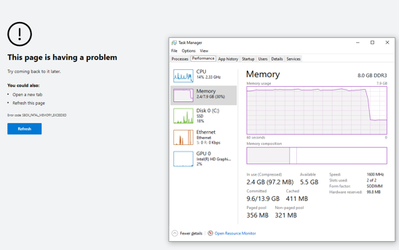 Is it "works as expected case" or is there anything we could try?
3 Replies

by
jcarlson

MVP Honored Contributor
Mark as New

Bookmark

Subscribe

Mute
To be clear, what's the field that the chart is being grouped by? How many groups do you end up with? And what statistics are you using?
We have a very large point dataset (~750k features), and a grouped serial chart was able to render just fine.
- Josh Carlson
Kendall County GIS

New Contributor III
Mark as New

Bookmark

Subscribe

Mute
Thanks Josh!
Chart is being grouped by "chainage" field and the field Tyoe is Double. Statistics is average, and how many groups I end up with - aprox. gazillions (but I do not know how to give you a proper number - it is a chainage for roads).
And I have just received sample date with just 2.5 k points and everything works great for me. What I know about Series configurations: Stacking is off and Type is Line.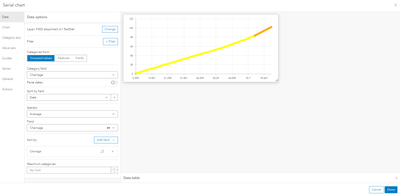 by
jcarlson

MVP Honored Contributor
Mark as New

Bookmark

Subscribe

Mute
If it's grouped by "chainage", then you're not going to get anything meaningful for an "average". Selecting a field in "grouped values" will create a separate data point for every unique value in that field. With that field being a Double, I would guess the number of unique values is pretty big.
Are you trying to show "average chainage by date"? What's the purpose of this chart?
- Josh Carlson
Kendall County GIS