Mark as New

Bookmark

Subscribe

Mute
Hello amazing Esri community!
I have a question that I desperately need some support on!
So, I have broke an element in my dashboard, a serial chart. I am trying to repair this issue. Generally I should just be able to 'configure' the chart to edit the data layer that is feeding it, however when I am doing this it is not allowing me to configure anything at all (second screenshot). What I am trying to show in the screenshot is how the configuration tools are simply not responding. As I click on the down carrot to show the options for the attribute field that I would like to filter/display it simply is not showing me any options at all. Also, when I try to delete the 'fields for condition' altogether it is again just not doing anything at all (third screenshot), where it should be removing the fields. I have also tried to delete the entire serial chart element, but it will not allow me to delete it (fourth screenshot). I went ahead and tried to delete other elements just to test the situation, and the app is just not allowing me to delete ANY of the elements.
If anyone has any insight at all on what is going on here, it would be super helpful and appreciated if you would share!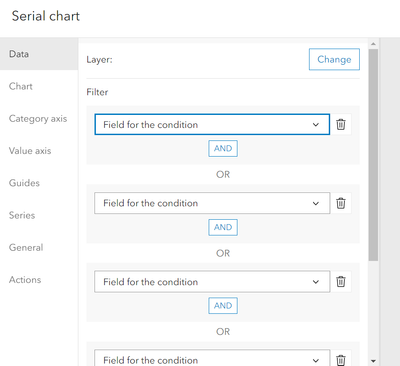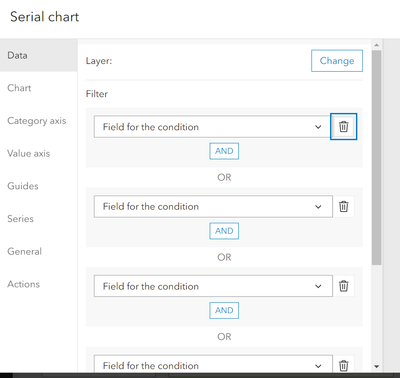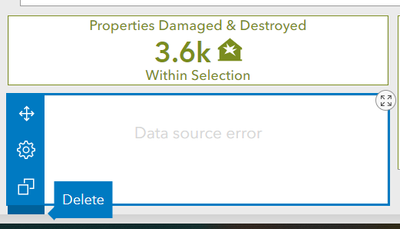 2 Solutions
Mark as New

Bookmark

Subscribe

Mute
Well, for anyone following this:
Just got off a call with tech and turns out this was just a technology issue and had nothing to do with anything that I was doing. The widget just became corrupted because technology!
Mark as New

Bookmark

Subscribe

Mute
No he did not specify, but we thought it must have had to do with me recently updating the feature layer that the serial chart was referencing. For some reason my updating the layer with the same csv spreadsheet excluding unnecessary attribute fields made the chart wig out resulting in the corruption that I was experiencing. I had to delete and recreate the chart, but could only get to that point by going into the browser's developer tools and clearing the cache.
12 Replies