New Contributor III
Mark as New

Bookmark

Subscribe

Mute
I want to create a chart that looks like the screenshot below. The three demands need to be stacked bar charts and the supply information need to be lines. The value for each demand and supply is calculated for each month and is its own field in the underlying feature layer. The underlying feature layer is an output of a published survey 123 survey that uses submitter input such as project area and project users to calculate the supplies and demands in the project. Is this possible?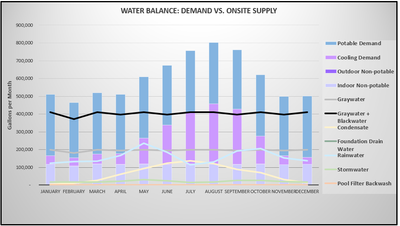 2 Solutions

by
jcarlson

MVP Esteemed Contributor
Mark as New

Bookmark

Subscribe

Mute
I think this could still be doable with a separate standalone table, but it would have to be done outside of Survey123. Imagine a layer like this:
Month | Potable | Stormwater | etc. | etc.
------|---------|------------|------|-----
Jan   |     1000|         900|   250|   25  
Feb   |     1250|        1100|   100|   33
You could have an automated process pull the values from the main survey dataset, aggregate each value by month, then submit the values to the table. Point the serial chart at that table, and you can symbolize it the way you want.
- Josh Carlson
Kendall County GIS

New Contributor
Mark as New

Bookmark

Subscribe

Mute
Thanks for this solution, @jcarlson! I was able to work with @PrachiPatel to write a script using the template you provided.
Instead of setting up a recurring task, I stored it as a Google Cloud Function and then added the URL of the function as a webhook that runs when the survey is submitted. There's a blog post that explains doing this here: Calling Python scripts with Survey123, Integromat,... - Esri Community.
I used this code to get the object id of the submitted survey.
def update_table(request):
  request_json = request.get_json(silent=True)
  object_id = request_json['feature']['result']['objectId']
Then, instead of truncating and recreating the entire chart_table, I filtered the survey_layer by the object id, did my reshaping on just the submitted row, and added the reshaped rows to the chart_table.
survey_data = survey_layer.query(where='objectid = ' + str(object_id), as_df=True)

# In this section (omitted) the submitted row gets pivoted to 12 rows (one per month)

chart_table.edit_features(adds=pivoted_data.spatial.to_featureset())
7 Replies