New Contributor II
Mark as New

Bookmark

Subscribe

Mute

Email to a Friend
Hey Geonet community!
When I am building a custom variable in build reports mode of Community Analyst, there is a button to access saved variables just below the data browser that doesn't currently work for me. I have a little over 100 custom variables saved, but whenever I click that button from within the custom variable builder, it shows me an empty list with 0 results. Am I doing something wrong, or is this functionality not currently available?
If this button worked, it would save me countless hours of wasted time. I currently have a lot of custom variables that include other custom variables. Many of these variables currently require equations that are 10-20 lines long in the custom variable builder, and then I include those variables in many other cells throughout a custom report. Currently, if I need to change one of those custom variables, I have to go throughout the entire report and change that input in cell after cell after cell. It's very time-consuming and easy for difficult-to-spot errors to occur.
If I were able to include saved custom variables within other custom variables in a custom report and I needed to make a change to one of the custom variables, then I'd be able to simply update that variable, save my change, and all of the other custom variables would be pulling from the updated version of that variable without me needing to touch each cell.
This would be a life changer. If this functionality does not currently exist, I'd please request that it be included in an update in the near future.
Thank you and wishing everyone well,
David
3 Replies

by
AnnaKishore

Esri Contributor
Mark as New

Bookmark

Subscribe

Mute

Email to a Friend
Hello David,
I am sorry you are experiencing issues with your Saved custom variable list.
I am currently in the build reports mode within Community Analyst trying to create a custom variable and I can access the "Saved variables" and "saved custom variables" without any issues. All my saved custom variables show up just fine.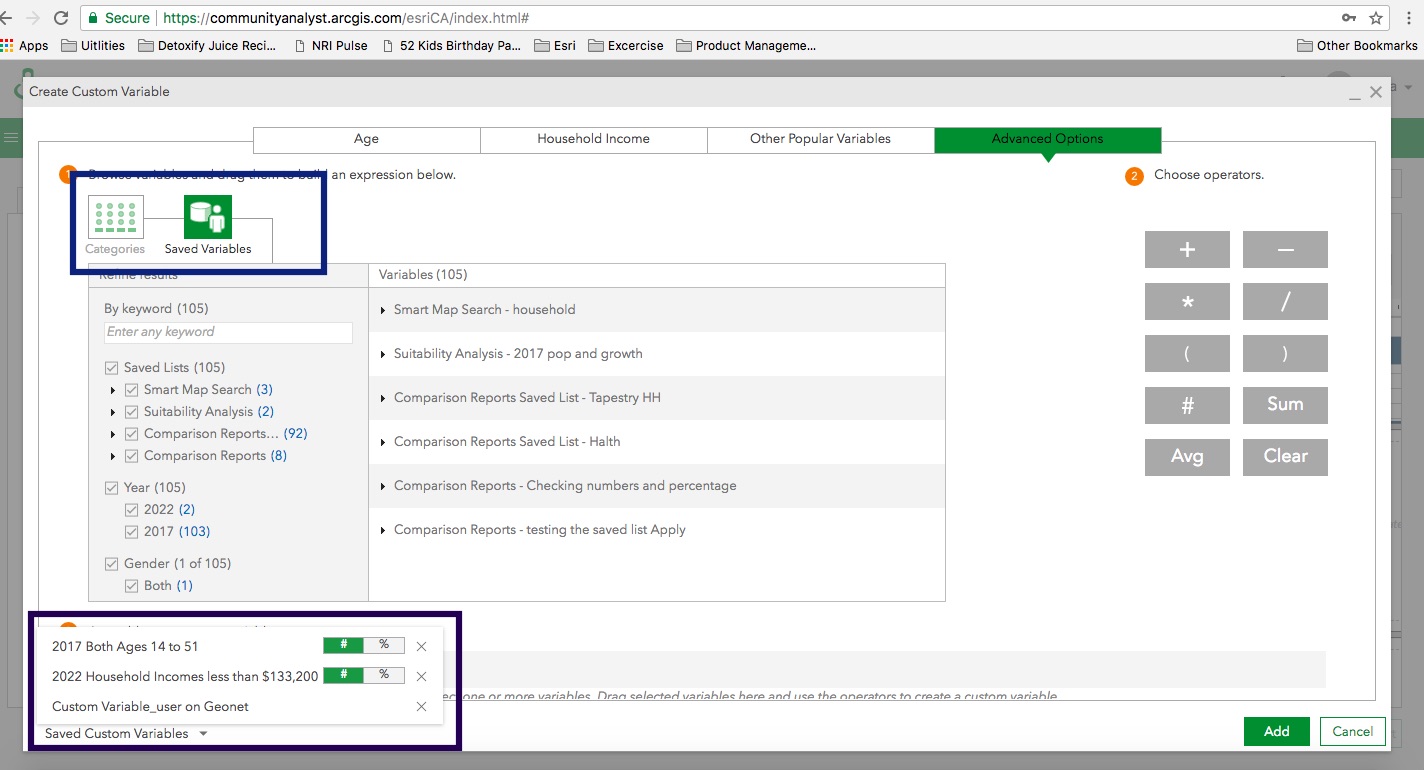 1. Do you have more than 100 Saved variables or Saved custom variables?
2. What browser are you experiencing this issue?
Regarding your second question, it would be great if you can provide me with reproducible steps to better address your concern.
Thanks
Community Analyst Team

New Contributor II
Mark as New

Bookmark

Subscribe

Mute

Email to a Friend
Hi Anna!
Thanks for your reply. In response to your questions, (1) I have 208 saved custom variables, and (2) I'm currently using Google Chrome. I didn't have a second question. I've attached more screenshots to clarify where my variables are showing up and where they are not.
Your screenshot seems to show two different lists of variables that do not overlap, and since you asked me to clarify between saved variables and saved custom variables, I'm guessing that there's a difference between saved variables and saved custom variables and that the functionality to embed saved custom variables within new custom variables does not currently exist.
If that's the case and you don't know of any workarounds---should I move this to the ideas forum? Having that functionality would be really great for me.
Thanks for your help and wishing you well,
David

by
DonnaBuhr

Esri Contributor
Mark as New

Bookmark

Subscribe

Mute

Email to a Friend
Hi David,
Thanks for the great feedback on how you use custom variables. Each custom variable is an independent expression created from standard variables and variables from My Data. You can use a custom variable to build another custom variable; however, once you add a custom variable to a report it becomes a separate script and is considered a one-way action without back reference to the original source.
While your specific request is not in our current product plans, we are always working to improve Community Analyst and we greatly appreciate you letting us know your use case. Understanding how you use custom variables in reports helps us improve the feature.
Thanks again for your valuable comments,
Community Analyst Team