Occasional Contributor III
Mark as New

Bookmark

Subscribe

Mute
A published a routing and geocoding service on our ArcGIS Server (10.2), added it to my content on ArcGIS Online, and successfully utilized the routing and geocoding services in a web app. I'm now trying to use those services in Collector. I modified my organizations Utility Services to point at the routing and geocoding service (added my locator above the Esri World Geocoder). Now when I try to geocode with Collector I get "no results found" and when I select a feature and get "Direction to here" it returns the following error: "Unable to determine a route to the destination. AGSCredential Required"
I'm interpreting that as an ArcGIS Server Credential is missing? I even tested this while on my company WiFi and VPN into our network. Is there some additional setting on ArcGIS Server that I need to apply or change so that Collector can consume the service? Thanks in advance for your time and help.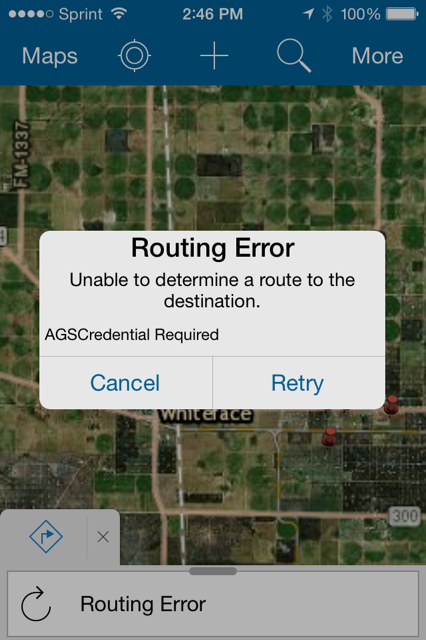 1 Solution

Occasional Contributor III
Mark as New

Bookmark

Subscribe

Mute
Russell, I saw your status has you moving to support ArcGIS Online and the Scene viewer products. Good luck with that and thank you for all your previous Collector support! On this particular discussion issue (Collector consuming Route and Geocoding Services) it appears the issue is with our server and security configuration. Our ArcGIS Server Service REST endpoints are not publicly facing/accessible. Esri Support was able to help me identify this and suggest solutions which will require me to work with my local IT to make the web address public. Working on that now along with an alternative solution of hosting everything on Portal (not set up yet) and having the mobile users required to be signed in on VPN. Thanks again for all your help!
7 Replies