Not applicable
Mark as New

Bookmark

Subscribe

Mute
Hello,
We are currently having issues with our field crews being able to download "any" map from ArcGIS Online within the new collector and/or the collector classic versions. All of the collector maps had been previously working without any issues for months, but now we are receiving the following error below -
"Map Download Failed
Unable to download the map."
Under the "more" portion of the error I am seeing this message "Unable to create replica. Please check your parameters. Create replica internal error."
I have tried the following -
1). Opening and turning off the offline mode, saving, opening the map within both the web browser and Collector, edit some data, then saved, switched back on the offline mode, saved, and attempted to download a new offline map with no success.
2). I have tried doing a save as a new name.
3). I have tried creating an entirely new map with new success of downloading.
4). I have tried to turn off all of the sharing for the feature services individually and within the map without success. The strange thing is that I am asked to update the sharing of layers that are not shared the in the same fashion, when I click yes to all, it continuously loops through wanting to update the sharing?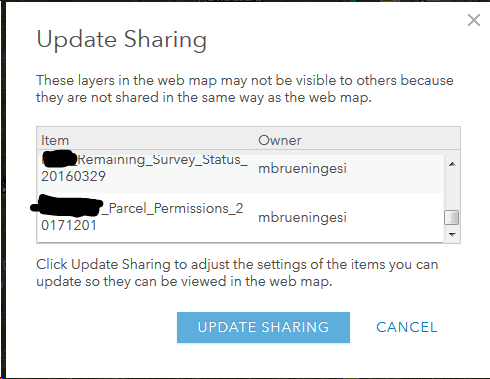 Really need to get this figured out as everything worked prior to last night and I know there was an update to the ArcGIS online overall.
Any suggestions would be greatly appreciated.
Thank you,
Mike
1 Solution

Esri Regular Contributor
Mark as New

Bookmark

Subscribe

Mute
Mike Bruening We just have one known issue with ArcGIS Online update.
If the layer is configured with attachment and it is empty, it will have download issue. Tomorrow morning we will release a fix for this. As a temp workaround before tomorrow's fix, you can add a dummy record with attachment to the layer, it should address this download issue.
5 Replies