New Contributor III
Mark as New

Bookmark

Subscribe

Mute
I have a use case that I'm not sure Collector can address, and am looking for input.
Here's the scenario:
* I'm going out to do field data collection in five separate project areas over the course of five days.
* The project areas are 20-50 miles from each other (will helicopter from one area to the next).
* I won't have an Internet connection during the five days of field work.
I know I can make a map available for offline use. That's not a problem. The issue is that if I want to include all five project areas in my offline map, at a zoom level that I need, the map downloaded to the iPad will be several gigabytes in size, with 99% of it being unnecessary, as it's not actually needed for my five widely-spaced, but rather small project areas.
What I really want to do is to have five separate maps - one for each of the small project areas. I don't need the area between the five project areas. But I don't see any way of doing this in Collector. When I download a map to the iPad, and then click on Manage, the only option it gives is to delete the map. What I really want to do is to copy an existing map, specify a new project area and scale for it, and save it as a new map with a different name. That way I could have five individual maps; one for each project area (Project Area 1, Project Area 2, etc.). See below for a diagram.
I considered the use of tile packages, but this is not a workable or efficient method. This is because we'll have multiple people out in the field collecting data, and if each of them is working in multiple areas each day, then they would need to submit their project areas to a GIS person in advance of their field work so that the GIS person could create all the tile packages and make them available to the field workers. It would be much quicker and more efficient if the field workers could create and download all of their intended project areas without the assistance of a GIS person.
Am I just missing something obvious in Collector? Or is it not possible to do this with the current version of Collector?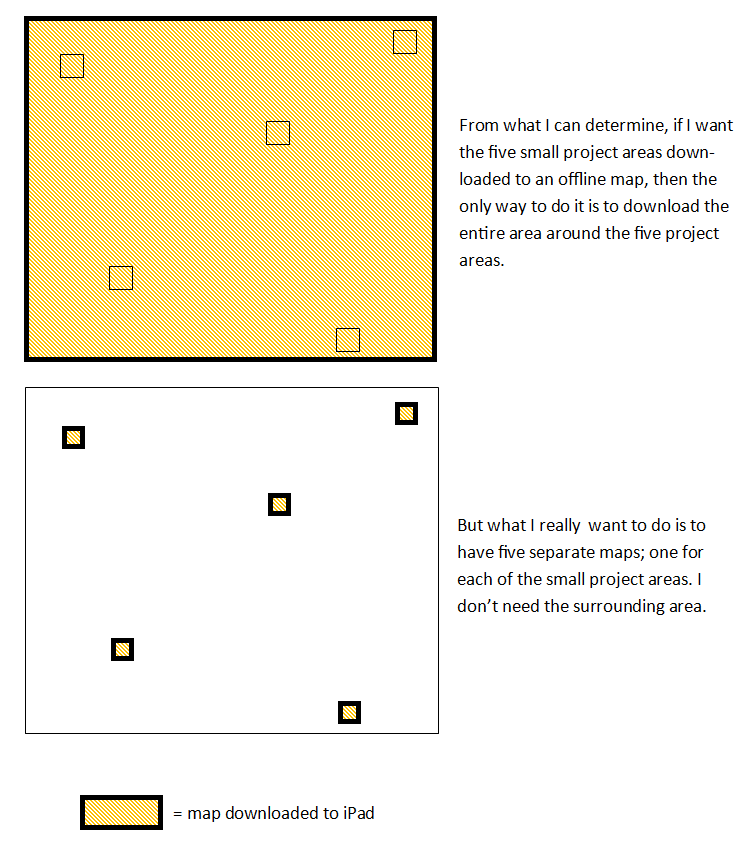 1 Solution

Esri Regular Contributor
Mark as New

Bookmark

Subscribe

Mute
Scott-
Thanks for sharing your workflows; very helpful in understanding the challenges you're trying to solve.
Currently Collector doesn't support a method to download the same map multiple times. However, there are a couple methods you can take now to achieve what you're ultimately looking for.
1. Create and sideload a large TPK for the basemap that covers all the areas where you'll be performing data collection. When taking the map offline, use the TPK and take off the unioned extent of the operational layers. This will ultimately give you full coverage of the areas, but will result in existing data in areas outside the data collection being downloaded. If you are just collecting data, you can use some of the new offline options to minimize this though. For more info see this doc: Prepare maps for offline use—Collector for ArcGIS | ArcGIS​
2. As suggested in an earlier post, create a set of 5 different maps and download each individually.
-Doug
14 Replies