Esri Contributor
Mark as New

Bookmark

Subscribe

Mute
Hello GeoNet!
I am having some issues connecting the 2019 location dataset to ##businessanalyst Pro. When I drop the Business Analyst Menu down and click on the "Change Data Source" it pulls up the screen to point Pro to the datasource. However, for some reason when I select "Computer" on a particular machine it doesn't identify the datasources (even though they are in Desktop on this machine).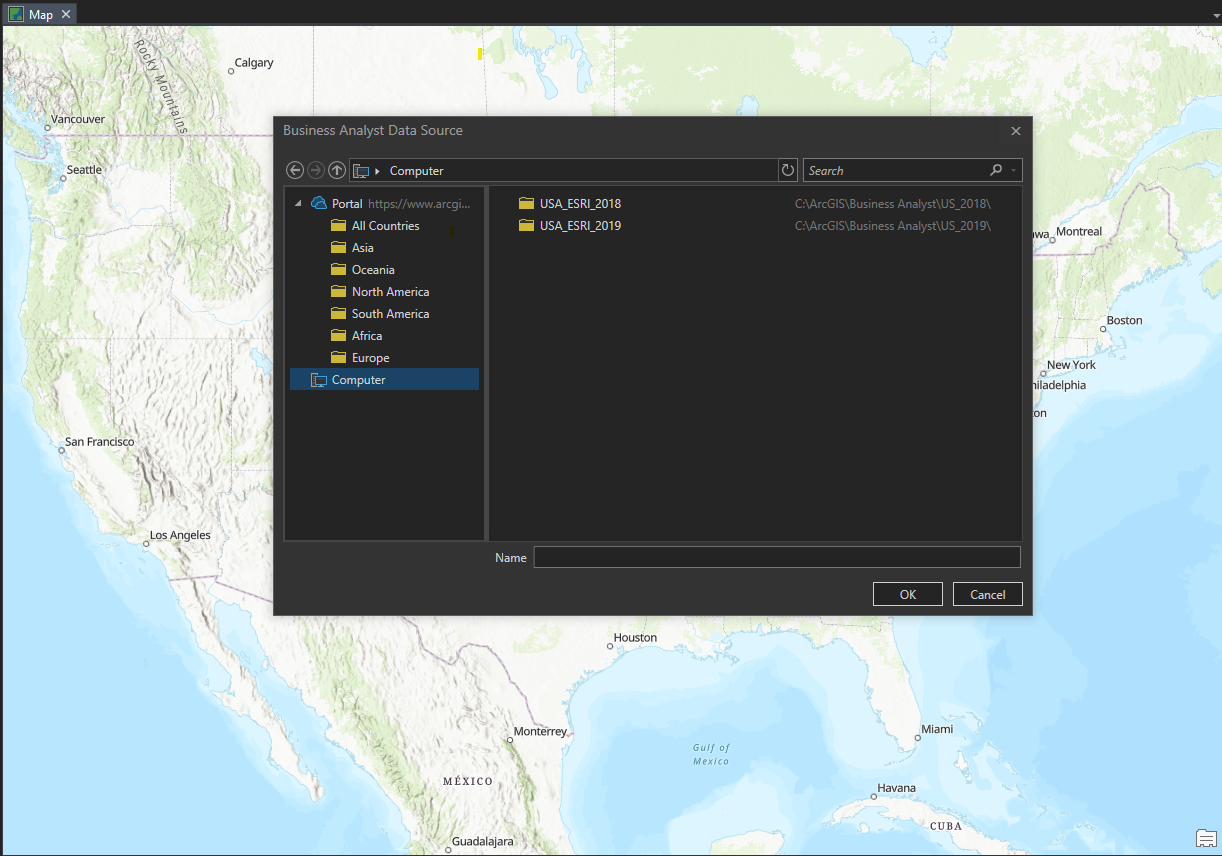 Please note: the above image is for reference - the machine I am working on does not recognize the data under "computer".
Any guidance would be greatly appreciated.
-M
2 Replies

Esri Regular Contributor
Mark as New

Bookmark

Subscribe

Mute
Michael,
Late reply so not sure if you have resolved this issue but if not I would double check and go to your Control Panel>Programs and Features or Uninstall a program and verify that the Esri Business Analyst local data installs are listed. As long as the local datasets are officially installed they should be listed. I have seen a few user who copied over where the data is installed or just had the installer folder on a machine and so the local datasets are not officially installed which would be one reason they are not listed.
If they are listed and still not visible on the Pro side open up Registry Editor and first make a registry backup (this might take a minute so be patient). The navigate to HKEY_CURRENT_USER\SOFTWARE and rename the ESRI folder to ESRI_OLD then close out of Registry Editor. Of course make sure no Esri software is running before doing this.
Lastly just a question if ArcGIS Business Analyst Desktop is installed on the same system or if it just the local datasets and ArcGIS Pro.
Regards,
Jason R.

Esri Contributor
Mark as New

Bookmark

Subscribe

Mute
Hi Jason!
Thank you for your reply! However, I did get it resolved by working with the Business Analyst Desktop team. Everything was installed properly and authenticated, but for some reason, it wasn't recognizing the installed local data. I uninstalled everything and reinstalled multiple times and copied the data over to ensure a local copy was hosted on my machine. After a few tweaks and double and triple checks - BA Pro recognized the datasets sitting directly on C: and I was off to the races. Since then I have used BA Pro multiple times and each time it has worked.
Again, thanks so much for the reply! I really appreciate it.
Best,
Mike