New Contributor
Mark as New

Bookmark

Subscribe

Mute
Hi,
I'd like to find the 3d distance between all points in two point feature classes. One is 12 000 building points, the other 22 000 point locations of a construction machine (along a line), constructing many km of tunnel. My aim is to be able to select the building points within x meters when the construction machine is at a specific location. How can I do this without running Near 3d several thousand times?
I am using arcgis 10.3 with basic license. I am not very familiar with scripting.
1 Solution

by
XanderBakker

Esri Esteemed Contributor
Mark as New

Bookmark

Subscribe

Mute
As an alternative I generated a script that will calculate the 3D distance between two sets of 3D point featureclasses.
The result is a table that contains the OID of the buildings, the OID of the tunnel points and the 3D distance: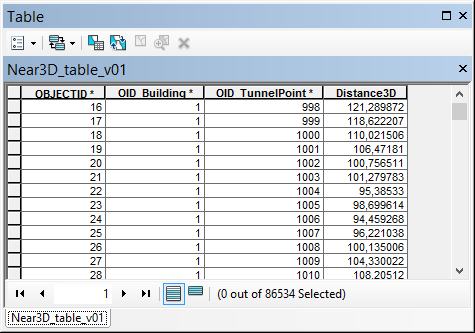 By defining two relates in ArcMap you will be able to do what you are looking for.
Relate 1: based on the tunnel points, relating to the new table.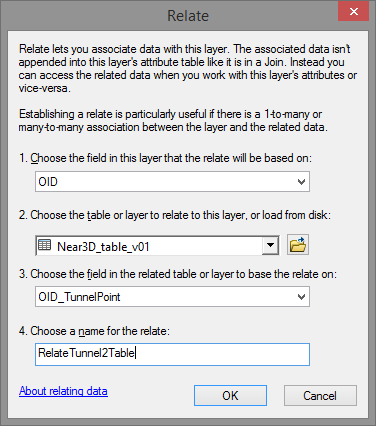 Relate 2: based on the table relating to the building points: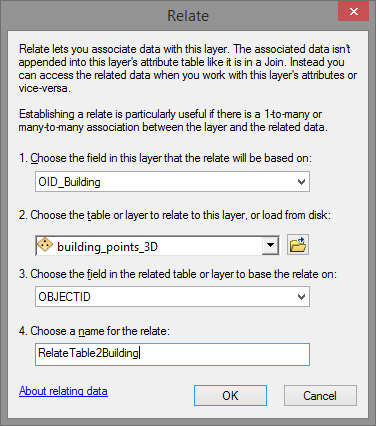 Make sure to define some attribute indexes in the table to increase the performance: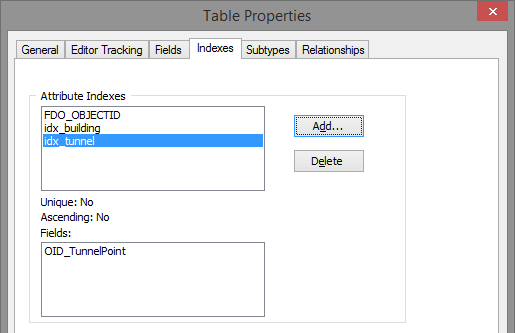 How does it work. In ArcMap you select a tunnel point and open the attribute table of the tunnel point featureclass: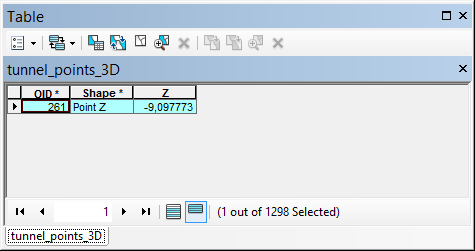 Click on the relate button and select the relate: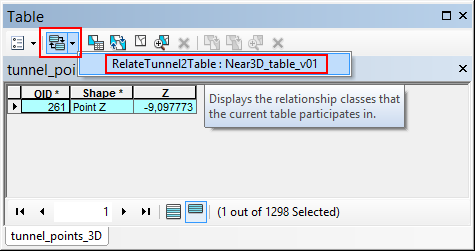 This will open the table with the related combinations selected: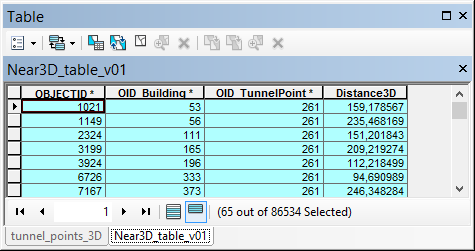 Then select the relate to propagate the selection to the building points: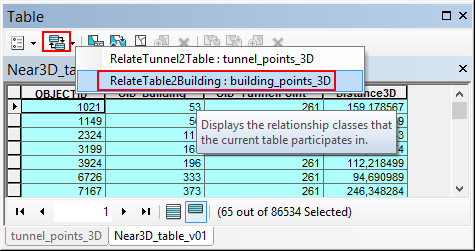 ... which will open the selected building points: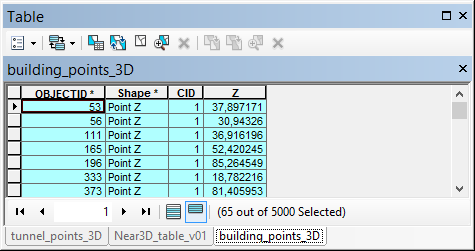 The map will show the selection: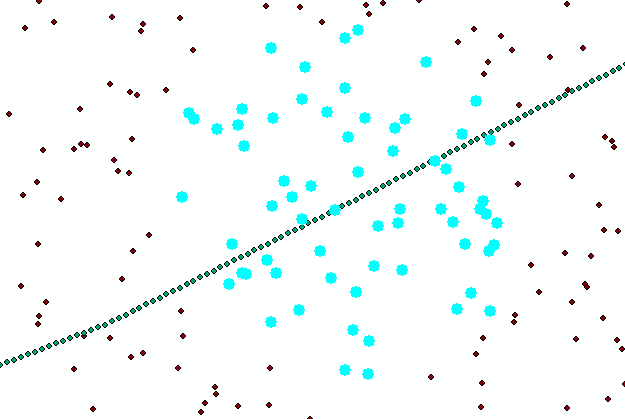 The script I used for this is listed below. In my case I only had 6.5M combinations and it took 2 minutes to process the combinations on an average computer. This will probably take all night processing the 264M combinations.
Script:
import

 math


import

 arcpy


from

 time 

import

 localtime

,

 strftime



def

 

main

(

)

:


    

import

 os
    ShowProgress

(

"Start process..."

)



    fc_buildings 

=

 r

'D:\Xander\GeoNet\Generate3DNearTable\gdb\data.gdb\building_points_3D'


    fc_tunnel_points 

=

 r

'D:\Xander\GeoNet\Generate3DNearTable\gdb\data.gdb\tunnel_points_3D'



    tbl_out 

=

 r

'D:\Xander\GeoNet\Generate3DNearTable\gdb\data.gdb\Near3D_table_v01'


    fld_building_id 

=

 

'OID_Building'


    fld_tunnel_point_id 

=

 

'OID_TunnelPoint'


    fld_dist3D 

=

 

'Distance3D'



    

# max distance


    max_dist 

=

 

250



    

# sr = arcpy.Describe(fc_buildings).spatialReference



    

# create lists of buildings and tunnel points


    ShowProgress

(

"Create lists of buildings and tunnel points..."

)


    flds 

=

 

(

'OID@'

,

 

'SHAPE@'

)


    lst_building 

=

 

[

[

r

[

0

]

,

 r

[

1

]

]

 

for

 r 

in

 arcpy

.

da

.

SearchCursor

(

fc_buildings

,

 flds

)

]


    lst_tunnelpoints 

=

 

[

[

r

[

0

]

,

 r

[

1

]

]

 

for

 r 

in

 arcpy

.

da

.

SearchCursor

(

fc_tunnel_points

,

 flds

)

]



    

# create output table for relate


    ShowProgress

(

"Create output table..."

)


    tbl_ws

,

 tbl_name 

=

 os

.

path

.

split

(

tbl_out

)


    arcpy

.

CreateTable_management

(

tbl_ws

,

 tbl_name

)


    ShowProgress

(

"Add fields to output table..."

)


    AddField

(

tbl_out

,

 fld_building_id

,

 

"LONG"

,

 

8

)


    AddField

(

tbl_out

,

 fld_tunnel_point_id

,

 

"LONG"

,

 

8

)


    AddField

(

tbl_out

,

 fld_dist3D

,

 

"DOUBLE"

,

 

8

)




    cnt_total 

=

 len

(

lst_building

)

 

*

 len

(

lst_tunnelpoints

)


    flds 

=

 

(

fld_building_id

,

 fld_tunnel_point_id

,

 fld_dist3D

)



    ShowProgress

(

"Start creating combinations..."

)


    

with

 arcpy

.

da

.

InsertCursor

(

tbl_out

,

 flds

)

 

as

 curs

:



        cnt 

=

 

0


        cnt_found 

=

 

0


        

for

 building_data 

in

 lst_building

:


            oid_building 

=

 building_data

[

0

]


            pntg_building 

=

 building_data

[

1

]


            

for

 tunnel_data 

in

 lst_tunnelpoints

:


                oid_tunnel_point 

=

 tunnel_data

[

0

]


                pntg_tunnel_point 

=

 tunnel_data

[

1

]


                cnt 

+=

 

1


                

if

 cnt 

%

 

10000

 

==

 

0

:


                    ShowProgressPercentage

(

"Processing combination: {0},  found: {1}"

.

format

(

cnt

,

 cnt_found

)

,

 cnt

,

 cnt_total

)



                dist3D 

=

 get3Ddistance

(

pntg_building

,

 pntg_tunnel_point

)


                

if

 dist3D 

<=

 max_dist

:


                    cnt_found 

+=

 

1


                    row 

=

 

(

oid_building

,

 oid_tunnel_point

,

 dist3D

,

 

)


                    curs

.

insertRow

(

row

)



    ShowProgressPercentage

(

"Ready processing {0} combinations,  found: {1}"

.

format

(

cnt

,

 cnt_found

)

,

 cnt

,

 cnt_total

)






def

 

AddField

(

fc

,

 fld_name

,

 fld_type

,

 fld_length

)

:


    

if

 len

(

arcpy

.

ListFields

(

fc

,

 fld_name

)

)

 

==

 

0

:


        arcpy

.

AddField_management

(

fc

,

 fld_name

,

 fld_type

,

 None

,

 None

,

 fld_length

)






def

 

get3Ddistance

(

pntg1

,

 pntg2

)

:


    pnt1 

=

 pntg1

.

firstPoint
    pnt2 

=

 pntg2

.

firstPoint
    distance 

=

 math

.

sqrt

(

(

pnt1

.

X

-

pnt2

.

X

)

**

2

 

+

 

(

pnt1

.

Y

-

pnt2

.

Y

)

**

2

 

+

 

(

pnt1

.

Z

-

pnt2

.

Z

)

**

2

)


    

return

 distance




def

 

ShowProgressPercentage

(

txt

,

 cnt

,

 cnt_tot

)

:


    current_time 

=

 strftime

(

"%H:%M:%S"

,

 time

.

localtime

(

)

)


    

if

 cnt_tot 

is

 None

:


        

print

 

"{0}   - {1}"

.

format

(

current_time

,

 txt

)


    

else

:


        percentage 

=

 float

(

cnt

)

 

*

 

100.0

 

/

 float

(

cnt_tot

)


        

print

 

"{0}   - {1} ({2}%)"

.

format

(

current_time

,

 txt

,

 round

(

percentage

,

 

2

)

)





def

 

ShowProgress

(

txt

)

:


    

# current_time = strftime("%Y-%m-%d %H:%M:%S", gmtime())


    current_time 

=

 strftime

(

"%H:%M:%S"

,

 time

.

localtime

(

)

)


    

print

 

"{0} - {1}"

.

format

(

current_time

,

 txt

)





if

 __name__ 

==

 

'__main__'

:


    main

(

)




‍

‍

‍

‍

‍

‍

‍

‍

‍

‍

‍

‍

‍

‍

‍

‍

‍

‍

‍

‍

‍

‍

‍

‍

‍

‍

‍

‍

‍

‍

‍

‍

‍

‍

‍

‍

‍

‍

‍

‍

‍

‍

‍

‍

‍

‍

‍

‍

‍

‍

‍

‍

‍

‍

‍

‍

‍

‍

‍

‍

‍

‍

‍

‍

‍

‍

‍

‍

‍

‍

‍

‍

‍

‍

‍

‍

‍

‍

‍

‍

‍

‍

‍

‍

‍

‍

‍

‍

‍

‍

‍
21 Replies