Regular Contributor
Mark as New

Bookmark

Subscribe

Mute
HI there
I would like to use a Con statement in a Raster Function so that I do not have create a new raster every time I want to query values in a raster (DEM). I am working in Pro 1.2.
For example, if I wanted to view all areas above 350 m above sea level, using the Raster Calculator in Spatial Analyst I would have traditionally inserted the following statement: Con("altitude1">350,1). This would create a new raster for my query.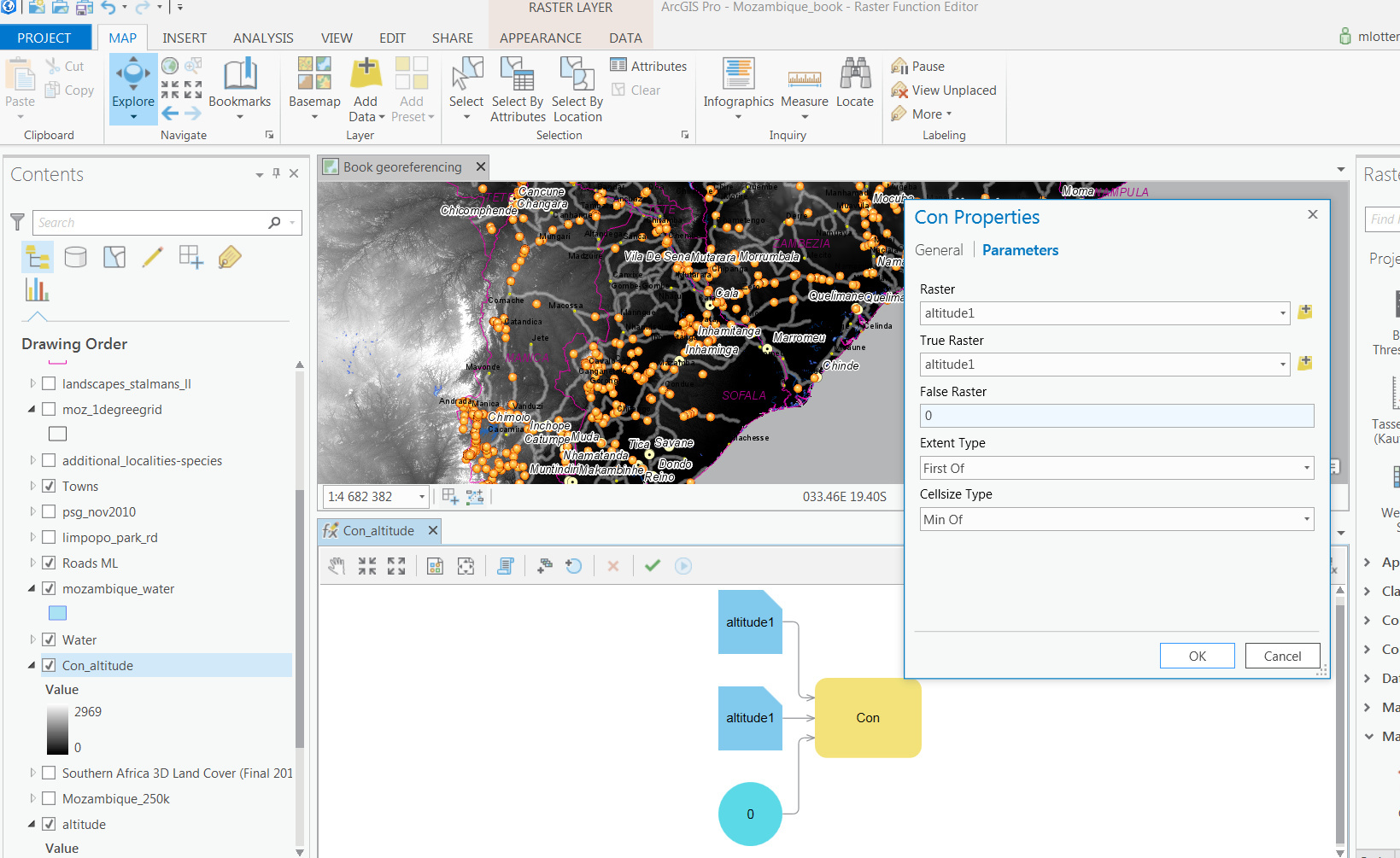 So I tried using a Raster Function. I am able to open the Con properties window for a raster function in Pro, but I cant figure out how to enter any parameters (other than what is provided in the screenshot, which deals with rasters, cell size and output extent). I am pretty sure Raster Functions should be able to extract the desired DEM values, perhaps I am using the wrong function or simply just not using it correctly? Can anyone point me in the right direction?
Thank you.
1 Solution

by
curtvprice

MVP Esteemed Contributor
Mark as New

Bookmark

Subscribe

Mute
Dan, these raster functions Melvyn​ is trying to use are a bit of a different animal - they work with rasters "on the fly" at the resolution of the screen, not as temporary raster datasets at full gp cell size like like Raster Calculator or raster tools.
Mervyn, you do need to chain by supplying your raster and a number to Greater Than and then pass that result into the Con function. Greater Than returns true or false, so the second argument to your Con would be the input elevation raster. The help pages you cite guide you through the process of chaining functions together.
Raster functions are more useful for web services than on the desktop IMHO. Rendering a raster using classification of a raster layer in ArcMap is pretty efficient too.
9 Replies