Occasional Contributor
Mark as New

Bookmark

Subscribe

Mute

Email to a Friend
I was surprised that the Version 3.6 Connect completely overwrote the "My Survey Designs" when I created a new one using the connect user interface. It appears that there were two sessions and the second session could not access the first session's database (I can't understand that this would happen since the database is sqlite and it is multiuser and transaction aware storage). I had moved an old survey out of the directory and wanted to overwrite with a new survey from an XLS form. As soon as I created the new one, it changed to say that the others are in the cloud! I had many other surveys and all were deleted so that now I only have one survey, the new one! It is showing that I have to download the surveys from the cloud! Any way I can restore these directories without downloading what may or maynot be the most current data?
I also want to ask if I can share the surveys with my colleagues, such that we can write to a shared folder and anyone can access the forms and update them in the shared folder. The survey has become an enterprise wide system and we would like to have multiple people to maintain it. Is there anyway we could do that?
3 Replies

by
JamesTedrick

Esri Esteemed Contributor
Mark as New

Bookmark

Subscribe

Mute

Email to a Friend
Hi Maaza,
If you wanted to update an XLS form, you can simply update the existing folder - if you need to, you can copy the form first to create a backup. As the version online is the one that your users access, that is normally treated as the 'in production' form- if you remove the directory on your computer without deleting the survey completely, you will need to download from the web to make subsequent changes.

Occasional Contributor
Mark as New

Bookmark

Subscribe

Mute

Email to a Friend
Thank you, James, for the reply. I think you did not understand what I was saying. I am saying that, I lost a whole set of diectories in the my designs forlder in a twinkling of an eye aka an infinitesimal moment whithoiut me doing any deleting action myself. I couldn't also find it in the recycle bin! This is terrible to happen, regardless of my being able to download all those that are already published. I .ost some that are not published yet with all the published documents.

Again, I appreciate your helpful response.

by
Jim-Moore

Esri Regular Contributor
Mark as New

Bookmark

Subscribe

Mute

Email to a Friend
Hi Maaza
To help diagnose the cause of the issue, could you please provide the detailed steps that you took in the lead-up to the deletion? Did you use any of the menu options from the cloud icon (see below) for a survey that was not stored on your local machine?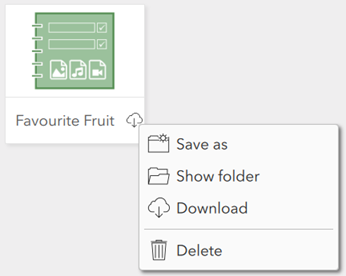 Note that Connect manages surveys on the local machine through the files and folders in My Survey Designs. SQLite is used by the Survey123 field app, however there is no SQLite database used by Connect.
Regarding your second question - a survey can have only one owner (author). You could maintain a shared XLSX file in OneDrive or SharePoint or similar that allows multiple users to edit it; however, the updated XLSX file would still need to be migrated to Connect and published by its owner as required.
Best regards,
Jim