Occasional Contributor III
Mark as New

Bookmark

Subscribe

Mute
Trying to install AGE 10.7.1 with Builder.
Before launching the setup, i changed my etc/hosts file to let my server see itself as sit.a4mobility.it rather than its FQDN (svksi058anew.globalnt.it)as suggested in https://community.esri.com/thread/208069-impossible-to-log-in-to-arcgis-server-federated-with-portal...
The etc/hosts now has this line
MY_SERVER_IP sit.a4mobility.it
To confirm it works, pinging the server with ping -a MY_SERVER_IP shows sit.a4mobility.it rather than the FQDN.
I launched the installation and everything went fine (all green check marks).
Then, opening the configuration wizard in the browser, (i changed the URL from http://localhost:6080/arcgis/enterprise to http://sit.a4mobility.it:6080/arcgis/enterprise ), after filling all the information, I reach the error: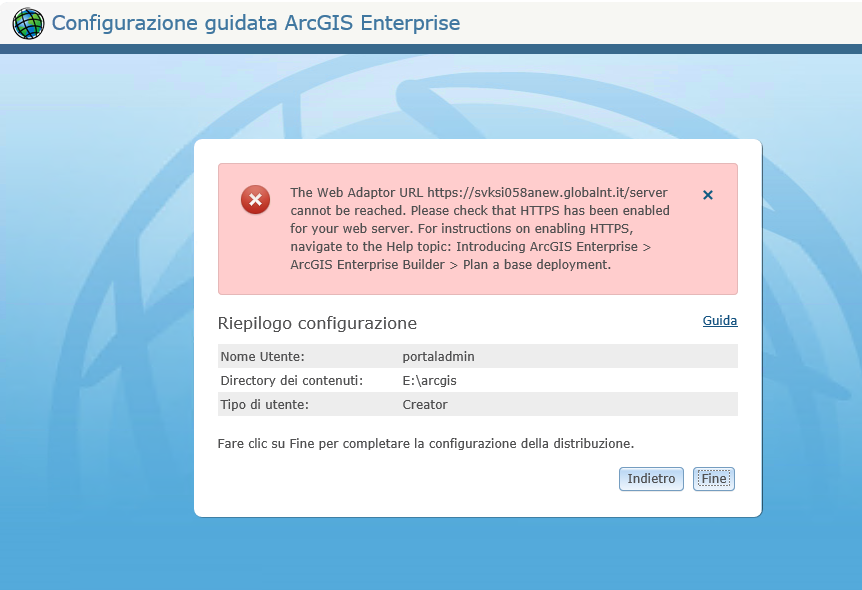 The wizard is redirecting to the FQDN (https://svksi058anew.globalnt.it/server), and there's no way I can make it work.
I can however reach https://sit.a4mobility.it/server which redirects me to the Web Adaptor configuration page (https://sit.a4mobility.it/server/webadaptor ), meaning that probably the etc(hosts trick worked.
Unfortunately, I have no idea how I would make the Builder configuration wizard to point to this address rather than the FQDN one.
I am again stuck with installing AGE with Builder and I REALLY hope someone will shed a light on how I can solve this without removing everything and reinstalling each component manually (that is one day of work at least).
There's also this other thread https://community.esri.com/thread/210356-web-adapator-for-arcgis-server-is-not-taking-domain-name-ar... where Jonathan Quinn‌ says:
1) Use the hosts file under C:\Windows\System32\drivers\etc to set the alias so the Builder will use that hostname for configuring everything:

Ex.

10.0.0.1 webgis.domain.com
This however seems to have failed in my case, and according to the many threads I found on Geonet, most people just gave up and did a manual install of the AGE components separately...
4 Replies