New Contributor II
Mark as New

Bookmark

Subscribe

Mute
Hi, I want to use CE on a project in Yangon, Myanmar. There is some basic information available via Get Map Data. but it is quite out of date. How can I import a more up to date aerial map?
2 Replies

Not applicable
Mark as New

Bookmark

Subscribe

Mute
I just did something similar myself using another aerial image source (assuming you can find one). Here was the best way to do this in my experience.
Grab the CityEngine OSM elevation.tif from the getMapData tool in your CityEngine/Default/maps folder. Import that elevation back into ArcGIS Desktop/Pro. Find your updated aerial image.
Still in ArcGIS, use the "clip raster" tool and set the extent to that of "elevation.tif". Make sure clip extent is checked. Turn off pyramids and tables in the environments tab as the won't work in CityEngine and will slow down your tool. Save as a stand-alone .tif, not into a .gdb. Run the tool and grab a beer, this may take a while.
Still in ArcGIS, use the "project raster" tool, and select the elevation.tif as the target because they both have to be the same to work.
Still in ArcGIS, remember that the imported texture is treated differently in CityEngine that ArcGIS. In CityEngine it counts as a "texture" on the RAM and it doesn't use pyramids (that's my basic understanding), so you have to shrink the resolution to something close to 4,000 x 4,000 or CityEngine will crash on raster import (trust me). To make this adjustment, use the "raster resample" tool and create a new tif. This might take several iterations of adjusting the x/y cell size to get a quality resolution that works for your needs while being small enough to import. Luckily, this tool only takes 5-10 minutes (on my computer with my Nearmap high resolution TIFs) per use. The clip raster was MUCH longer.
Back to CityEngine, copy the raster resample result into your CityEngine "Maps" folder. Open your elevation in the scene and assign the new raster on the BaseMap selector.
It should line up if you followed all the steps.
Here is my result with a new aerial raster on OSM elevation.tif ("terrain"):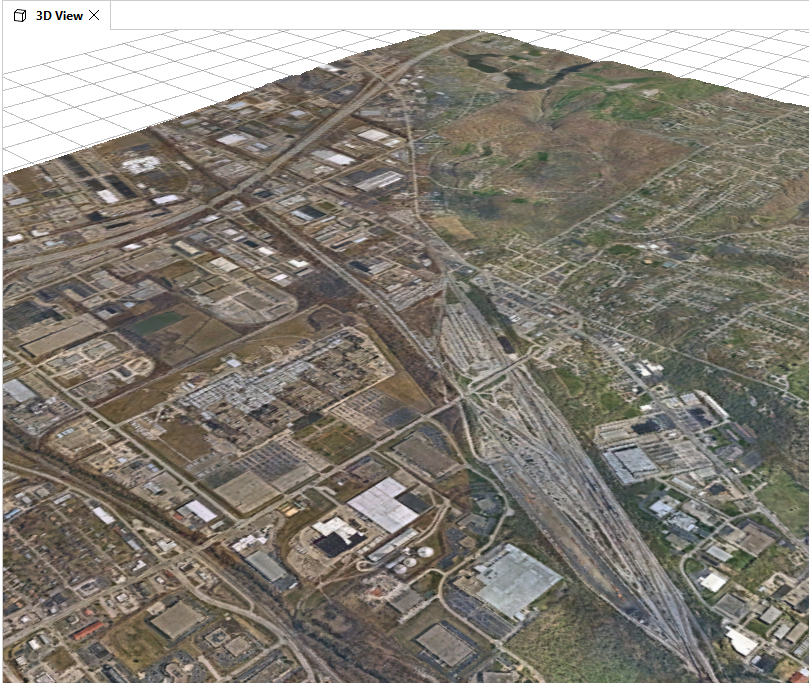 New Contributor II
Mark as New

Bookmark

Subscribe

Mute
Hi Brian - I'm a Mac user, so do not have ArcGIS. Once I get set up on a PC I'll give your solution a go.
Cheers
Richard