Mark as New

Mark as Read

Bookmark

Subscribe
This monthly series of member spotlights features you and your peers here in Esri Community—the people playing a role in finding solutions, sharing ideas, and collaborating to solve problems with GIS. We're doing this to recognize amazing user contributions, to example how Esri Community's purpose is being brought to life, and to bring depth to this group of incredible people who may never meet in person, but who benefit from each other's generous expertise.
---
Managing Properties for Johns Hopkins University
In October 1876, Johns Hopkins University formally opened to its first class of students. The entire University was comprised of just two buildings tucked between North Howard and North Eutaw streets in downtown Baltimore. Though modest in size during those first young years, a sprawling legacy lay ahead.
Shortly after opening, a Chemical Laboratory was added to the group of buildings. Less than a decade later, the University obtained some additional land where it would build the Biological Laboratory, and more structures and growth would rapidly follow. Nearly 150 years later, Johns Hopkins now includes ten divisions on campuses across the state of Maryland and several out-of-state and international locations.
Once easily tracked, the University's list of properties has become a much larger, far more complex project.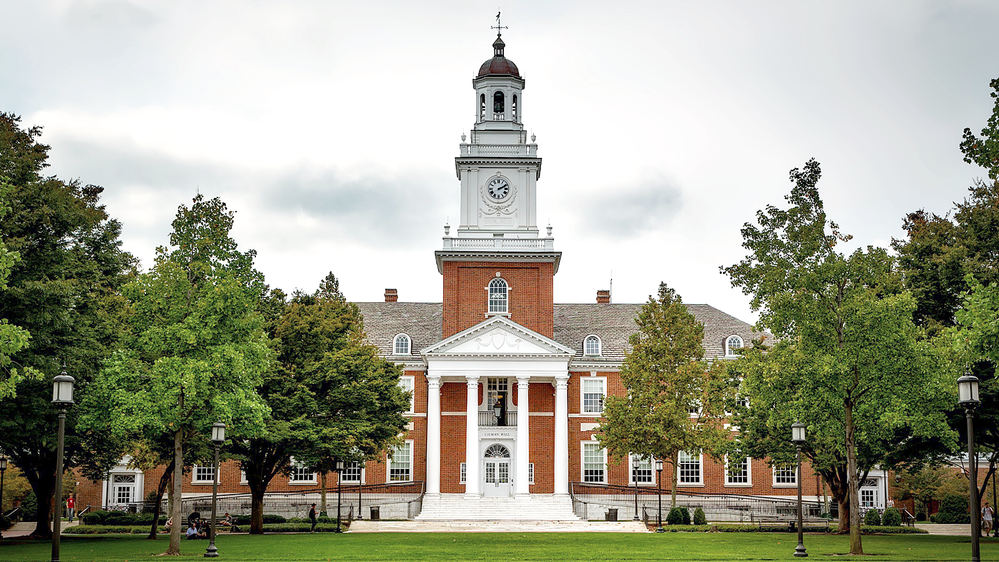 Gillman Hall at Johns Hopkins University | Pixabay
Jonathan Dandois PhD, GISP is the GIS Manager for the University's Facilities & Real Estate operations, and with so much to keep tabs on, he ensures that all the properties the University owns don't fall off the map. His department manages all the property work, construction, planning, and architecture that keeps things running. With ArcGIS as the foundation for his toolset, Jonathan and his team ensure that these important assets show up on a map where key information can be added to each location.
Jonathan chuckles at his oversimplification of his task, "We have a lot of information to put in maps, obviously."
The Perfect Middle Ground
Thinking back on his days as an undergraduate while studying Geography and Environmental Sciences in the late 90s and early 2000s, Jonathan recalls a particular lesson his professors would emphasize: the importance of being able to search product documentation when it came to navigating the tools of their trade. They were expected to develop self-sufficiency; after all, they'd be entering a field where there was every likelihood they'd have to use programs or troubleshoot challenges without ready access to more knowledgeable peers. Practice hunting down relevant information became a memorable part of Jonathan's education.
Roughly two decades on, Jonathan has become good at searching for answers. Depending on his need, official product documentation tends to be the first place he goes looking when he's turning over an ArcGIS conundrum. There are times, though, when the questions surrounding that issue don't fit the mold of something that would be included in documentation. Sometimes, he's not sure where to even begin a documentation search. And unless what he's dealing with has evolved into a real problem—something he'd contact Esri Customer Support about—he turns to what he's found to be the perfect middle ground between both resources: Esri Community.
---
" Often, you'll stumble on some post from last week, or a couple years
back, and it's like, 'Oh, this really sounds like what I'm working on.' "
---
Having a place where he can connect with others working at or above his same level of expertise has been a huge help. It turns out that the challenges of essentially being on one's own that his former professors had worked to prepare him for remain as common today as they were back then.
Jonathan describes his environment, "It's really just me in my GIS shop, right, and one or two people. I've got some junior staff, but I don't really have any peers that I can go across the hall [to] and say, 'Hey, have you dealt with this before?' or 'What we do here?'"
Because what's posted in Esri Community can live on indefinitely, interactions published at any point in the past can still prove helpful in the present.
He identifies, "Often you'll stumble on some post from last week, or a couple years back, and it's like, 'Oh, this really sounds like what I'm working on.'"
Leaving a Mark for Others
Among his peers, or "tech nerds," as he warmly dubs other GIS professionals in Esri Community, Jonathan recognizes that he's not the only one turning to the online group for access to the knowledge of industry peers. Because of that, he's spent the last few years becoming more involved in not just seeking out the help of others on the platform, but in providing help back.
Jonathan's experience in June of 2022 stands out in his memory as an example of putting that community mindset into action.
At the time, he'd been running into an issue between two of the Esri products he manages for the University.
"I had this really weird problem that was happening between [ArcGIS] Enterprise and Field Maps." Jonathan explains, "And something was just going really wrong. Something was getting stuck."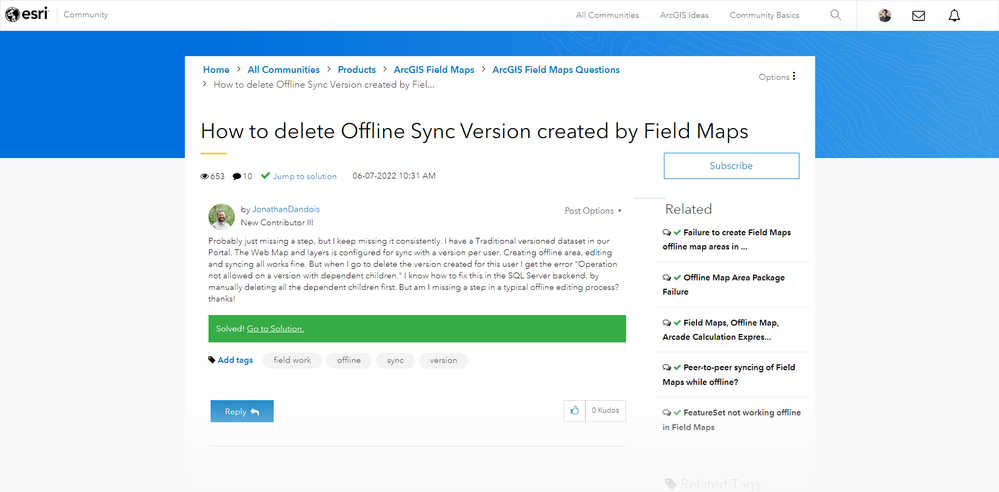 Jonathan posted about an ArcGIS Field Maps challenge and closed the loop by sharing the solution
He checked in Esri Community to see if others had already encountered and resolved the same issue he was experiencing—a process that has served him well at times. There were references to similar instances, but nothing summed up quite right as a match to his own circumstances, so he turned to the Esri Technical Support team for help.
Through in-depth work that advanced him through multiple technicians all the way to communicating directly with the Spatial Database Team, a solution was uncovered. Together, they determined that the problem was one that some others could potentially encounter as well. Still, the nature of the issue wasn't something that would fit neatly among other product documentation. They agreed on a plan for making the useful information available.
Answers in hand, Jonathan headed back to Esri Community to share his experience and the solution that'd come out of it.
"And so, I posted that there as like a note for the future. … Like, 'If you have this problem—I hope you don't because it was kind of a pain'" Jonathan laughs, "'—but if you do, maybe you'll stumble here and maybe you'll get some insight from it.' So that felt kind of like I was leaving a little mark, you know, in the Community."
He knows what that kind of information made available could mean for others, whether that be today or down the road. Jonathan summarizes the value of the collaborative mindset he's come to embrace while referencing another's Question Post that he contributed to.
"… And that just feels like we're all helping. … that [interaction] is still there in the Community record, for maybe the next person that has that issue."
---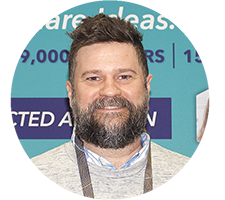 Jonathan Dandois PhD, GISP is the GIS Manager for Facilities & Real Estate at Johns Hopkins University. He manages the department's ArcGIS Enterprise products, using ArcGIS as the foundation for mapping the University's expansive list of properties as they oversee all related work, construction, planning, and architecture that keeps things running.
Historical sourcing: Early History of The Johns Hopkins University
You must be a registered user to add a comment. If you've already registered, sign in. Otherwise, register and sign in.