Mark as New

Mark as Read

Bookmark

Subscribe
About the Survey123 Early Adopter Community
ArcGIS Survey123 version 3.14 beta is now available for testing from the Early Adopter Community website. Do not miss this opportunity to give it a go and share your feedback. This article describes some of the latest beta features and bug fixes added this week.
Our plan is to release these features and fixes, subject to your feedback, through updates to Survey123 in November and December.
If you haven't already, join the Survey123 Early Adopter Community using your Esri account. In the Early Adopter Community website, you will find the beta builds as well as documentation and forums where you can post your findings and feedback.
Please note that we make beta software available to you for testing and feedback. You should never use beta software in production. Functionality and documentation can vary once features are moved into general release. We cannot guarantee a delivery date for the work you see in the Early Adopter Community. However, you will see that features that get more feedback in the Early Adopter Community often make it faster to general release. We are building Survey123 together!
Enhanced grid layouts (Survey123 field app)
Grid layouts help you better control how questions are arranged within your form design. Check this blog for more details. Support for nested groups is limited and we wanted to do something about it. The new 3.14 beta builds of Survey123 Connect and the field app let you use extended XLSForm syntax to help you better handle nested groups in layout mode.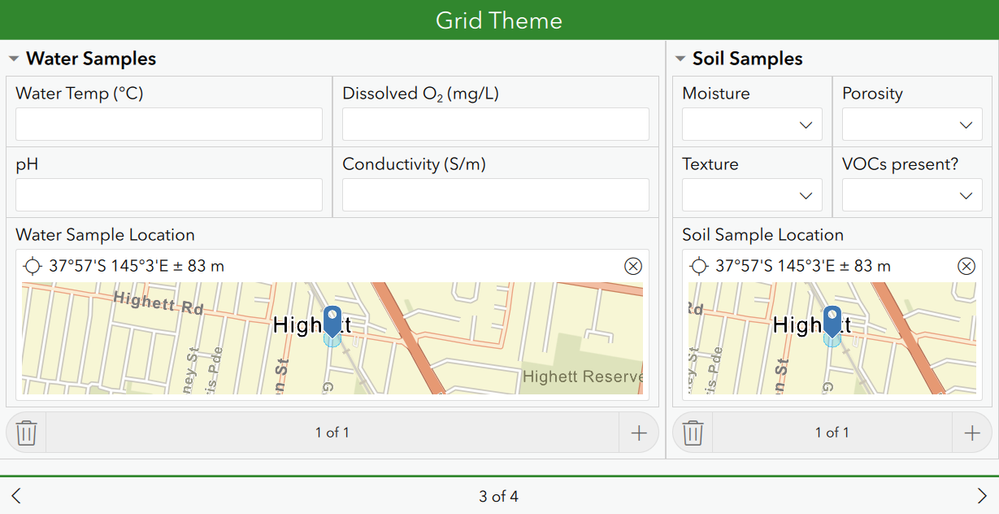 Support for nested groups in grid layouts is improving. Before, a subgroup would always span one column from its parent group. Now, you can define the span as you like.
In the example above, we arranged two groups (Water and Soil) side by side within a repeat. Note that we decided to give more space to the Water group. With the XLSForm enhancements in the 3.14 beta you can specify not only how many columns a group should have, but also how many columns it should use from its parent group. That's new, and it gives you extra control when working with groups and repeats within other groups. Let me put this in XLSForm terms: Before: w2 In beta: w3:2, as in w<columns>:<span>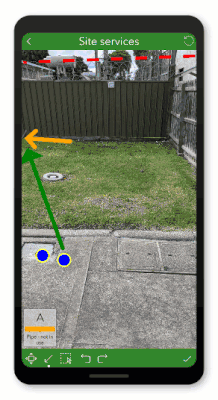 Create custom annotation tools to better model the specifics of your workflow
Custom annotation tools (Survey123 field app)
In version 3.13 we introduced improvements to the user experience and quality of annotated maps and photos. You can learn more in Jim's blog.
We are now introducing beta options for you to create custom annotation tools. Why do this? So that you can more effectively model the annotation experience to the specific needs of your workflow. In the animation below, the author of the survey created a custom annotation tool palette with elements from water, gas and electricity. Every one of these elements has well defined symbology and meaning. This helps standardize annotations and streamlines the user experience when annotating a map, photo or drawing. Learn more.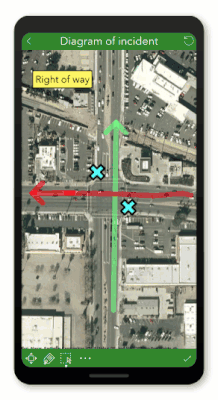 Resize, rotate and reshape existing graphics
Select and edit existing annotations
Undo is not enough. Sometimes you need to be able to select an annotation to rotate it, resize it or simply change its shape. That's all possible with the beta and we would love to learn if this is working well for you. Learn more.

Signature support in the inbox… and more (Survey123 field app)
We introduced support for images in the Survey123 field app inbox in 3.13. With the 3.14 beta you will also be able to work with signature question types in the inbox: You can view existing signatures and you can also add new signatures to existing records from the inbox.

But that's not all. We took this opportunity to revamp the user experience for this question type. The big change here is that the signature canvas is no longer locked into the survey. Instead, it pops up for the user to sign. What's the benefit? Extra space for end users to sign!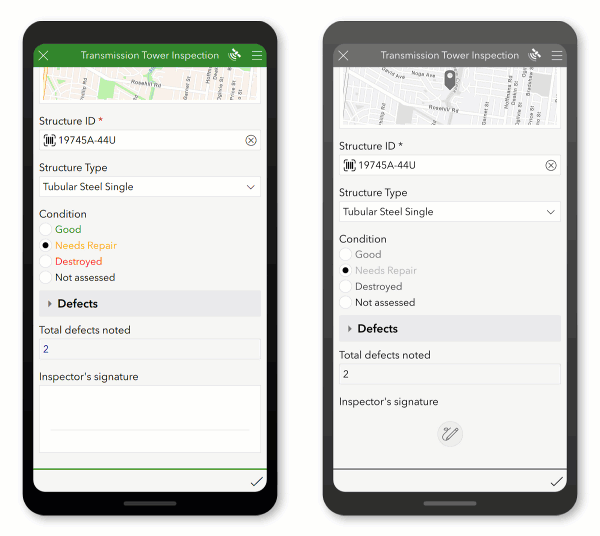 The signature canvas now pops up to give end users extra space to sign
There's more: You can define the size of the signature canvas and activate the multiline appearance to collect more than one signature in a single question type. Learn more.

You must be a registered user to add a comment. If you've already registered, sign in. Otherwise, register and sign in.