Mark as New

Mark as Read

Bookmark

Subscribe

Email to a Friend
Our Esri Community team is looking forward to a big presence from community members at this year's User Conference! Here are the top four must-know details about how to connect with us and what we'll be up to.
1. Booth Location
First things first. You'll find the Esri Community booth (and a bevvy of our smiling faces) in the far right corner of the space when entering by the main entrance on West Harbinger Drive. If you notice your body automatically drifting that direction of its own accord, don't be alarmed. That's just our natural magnetism and not something you need to ping your doctor about.

2. Help More Esri Users Get Connected
Bring your fellow GIS co-workers and colleagues who haven't yet signed up for an Esri Community account our way. We'd love to help get them set up with a new account and officially welcome them into the fold in-person. As our numbers grow, so does the collaboration and an ever-strengthening network of shared GIS knowledge!
3. Share Your Community Story
This year, we're hot on the hunt for member stories that illustrate the impact of Esri Community. Whether they capture a time a member shared knowledge that helped you complete a critical project, mentorship within Community that contributed to growth, how your ArcGIS Idea was implemented in an Esri product, or any other meaningful event that couldn't have happened without Community, we want to hear about it.
If you've got a story and are willing to let us capture it in writing or on video at UC, let us know ahead of time at esricommunity@esri.com or feel free to just stop by our booth during the conference.
4. Share Your ArcGIS Ideas
Stories aren't the only thing we're collecting at UC. Your ideas about how to make Esri products better for everyone are invaluable. 13,000 member ideas have been submitted since ArcGIS Ideas began in 2010, with over 500 of them being implemented in Esri products since 2021, alone. We're committed to user input as a core component of our products' evolution.
Community members can always visit ArcGIS Ideas to search the list of user requests and ideas, participate in helping support excellent ideas by voting for them with a kudos, or even create brand new ideas for consideration as Esri product improvements.
In-person conference attendees will find column trees with signs promoting ArcGIS Ideas throughout the showcase with QR codes for easy access to the site.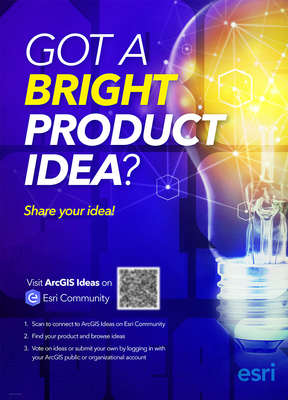 ArcGIS Ideas poster
If you hear someone saying "it'd be great if ..." or "I really wish ..." or "what if ..." about an Esri product, be an ambassador by helping them find our team or use any of the distributed posters to make sure their thoughts are heard.
And that's it! The User Conference is a major highlight of our year; particularly since it gives us a chance to connect with many of you face-to-face — the people who make Esri Community such a vibrant, welcoming, and useful place.
Thanks for everything you do and let us know if we can expect you for a friendly meet & greet at our booth. Be sure to also follow our Twitter updates at @EsriCommunity_
4 Comments
You must be a registered user to add a comment. If you've already registered, sign in. Otherwise, register and sign in.