New Contributor
Mark as New

Bookmark

Subscribe

Mute
Hi,
I spent a couple of days playing around with different asset types, and now I'm working on the Mid-Cable Splice Enclosure. I'm using the COTS fgdb sample from Esri Comm 1.3.
While inspecting connectivity for this enclosure, I noticed a configuration that I haven't seen up to now: at this enclosure, we have connectors that have two different strands connected to the same C:Back terminal connector (see a sample screenshot for splice point #12717 below - the same scenario happens for splice point #12718).
As I'm not an SME for Telecom Domain and haven't seen this before on other assets of the same dataset, I'd like to check if this is a valid and expected connectivity configuration, or if there is a chance of a data issue at this enclosure.
If anyone is familiar with this concept and can help in clarifying it, I'll appreciate your help.

Roberto.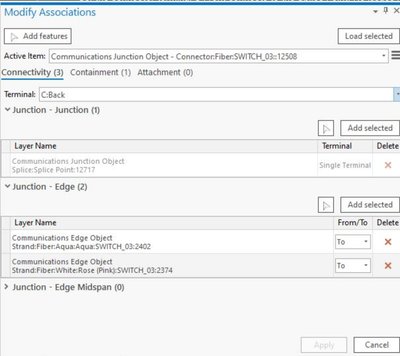 2 Replies

Esri Frequent Contributor
Mark as New

Bookmark

Subscribe

Mute
Is this from the sample data? If so, it is just a mistake in the sample data. The connector should only have one strand per terminal.
New Contributor
Mark as New

Bookmark

Subscribe

Mute
Yes, it is sample data from Comm 1.3 Foundations dataset (Naperville).
Thanks for sharing your thoughts @MikeMillerGIS. I was also considering a possible data issue but as I'm not a domain guy, I just want to make sure I wasn't missing a valid connection configuration.
Roberto.