New Contributor II
Mark as New

Bookmark

Subscribe

Mute
Hello,
After I loaded my GTFS data on ArcGisPro, i've deployed my GTFS's shapes with this tool:https://pro.arcgis.com/fr/pro-app/latest/tool-reference/public-transit/gtfs-shapes-to-features.htm
This one deploy my shapes directly from my GTFS datas (shapes.txt file).
Here is the table of the layer when deployed:

(The right of table is just infos like the line's color...)
Here, one shape is equal to one route.
As you can see, all my routes are identified by line (route_id, route_short_name...) and by shape with the primary key "shape_id".
This "shape_id" doesn't match with my table LineVariant who identify the routes in the data model.
For example:
Here my LineVariant table: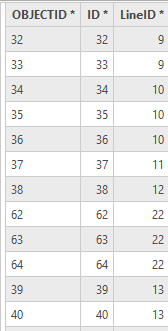 Each routes is here define by the ID column. The Line_id identify a group of ID (a group of routes so).
The ID of LineVariant don't match with the shape_id: if i choose the LineVariant ID "10" , it will not match with the shape_id n°10
So two questions:
- Is it possible to make a relation class between those two tables?
- If not, how can I include the shape layer into my database?
It seem odd for datas coming from same files and deployed by same software that they can't communicate.
Sorry for my bad english, I hope i'm clear.
1 Solution

Esri Regular Contributor
Mark as New

Bookmark

Subscribe

Mute
Okay, this was a fun little challenge. I created a script and Python Toolbox that will add a GShapeID field to the LineVariants table populated with the GTFS shape_id (attached). You should be able to run the tool or use the script directly in a Python workflow. I think it should be pretty straightforward, but let me know if you have any questions.
The script matches up stop sequences in the GTFS stop_times.txt file and the LineVariantElements feature class from the Public Transit Data Model and uses the relationships between the various tables to figure out the shape_id associated with each LineVarID. If for some reason it can't find a matching stop sequence, it just leaves the GShapeID field blank (I've seen this in cases where a LineVariantElement was deleted because it had null geometry - something the GTFS To Public Transit Data Model tool does automatically to avoid network dataset build errors.)
The script currently does not have any data validation and relies on good input data.
Please let me know if this works for you.
I will consider enhancing the GTFS To Public Transit Data Model tool to populate the GShapeID field automatically in a future release of ArcGIS Pro. I'll leave a comment here if that happens.
6 Replies