by
JoshBeaton

Esri Regular Contributor
Mark as New

Mark as Read

Bookmark

Subscribe
Mega Menu
The new mega menu helps users find what they are looking for quicker and has the most frequently used workflows accessible through notification badges and interactive dropdowns.

Help and Guidance
The mega menu has designated help resources that are focused on commonly asked questions, workflows, and provides a place for user to give site feedback.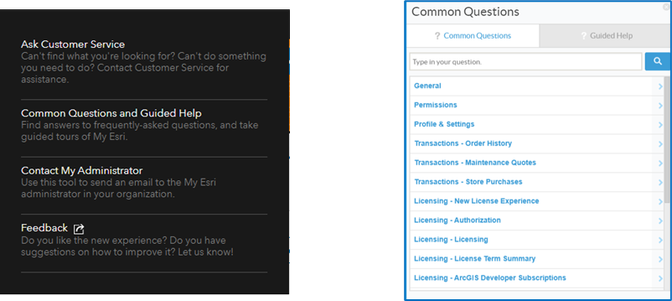 Profile
Enhancements were made to the user profile that further ties the experience to permitted features based on the individual. Examples include a 'Developer' option if the user is associated to an Annual Developer Subscription, and a 'Store Purchases' option for showing individual order and fulfilment details. With the use of inline editing, the experience has been streamlined where a user does not have to go to multiple pages to update their profile information.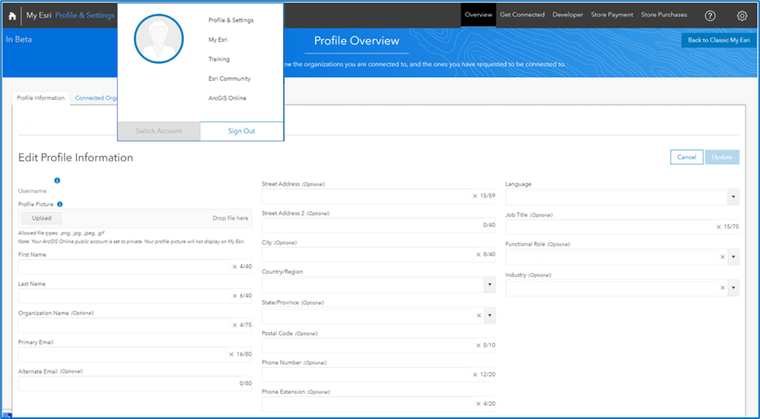 With the goal of users finding what they are looking for easier, the new model utilizes interactive grids that expand and collapse (+) the display showing detailed information. This practice is used as a standard across the new experience and effectively decreases the amount of click throughs a user needs to accomplish.
Example: Training Records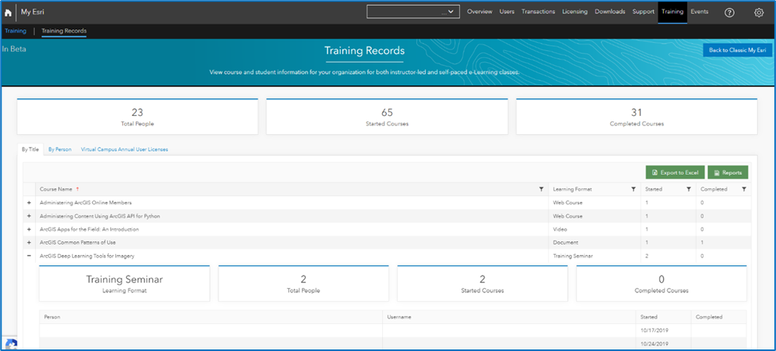 Action Icon Selectors
Knowing that My Esri is used globally, creating an experience that supports translation can be difficult. Where applicable, new modal driven action icon selections have been added.
Example: Technical Support Cases

Manage Users
From the main mega menu, you can access all users associated to your organization and manage their permissions. On the Manage Users page, the new look allows you to view and update your user's permissions easier while remaining on the full user's list page.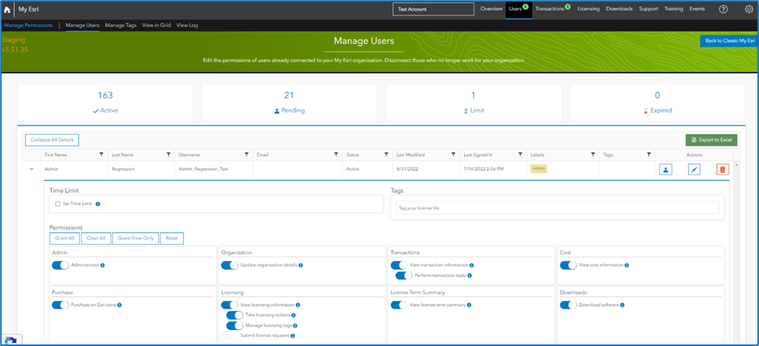 Additional tools and reporting are available in the Manage Permissions feature such as user tagging, viewing user list in grid format, and viewing changes to user permissions through a log.
Software License & Download Management
To assist users when choosing the correct options for licensing an Esri product, the experience has been updated to grouping the product licenses and implementing a more user-friendly starting point with the addition of large product icon selectors.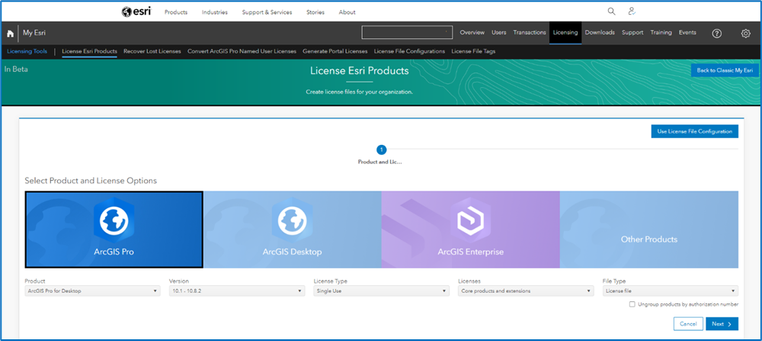 A similar experience was created for the downloads page along with the most current versions available from the mega menu dropdown for easy access and consistency.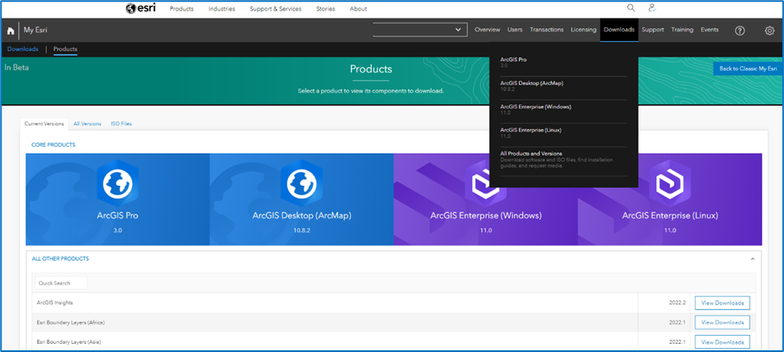 Support
The support user experience has been modified to provide a clearer distinction between technical support and customer service support channels. This has been accomplished through updated taxonomy and actionable features displayed under pertinent categories.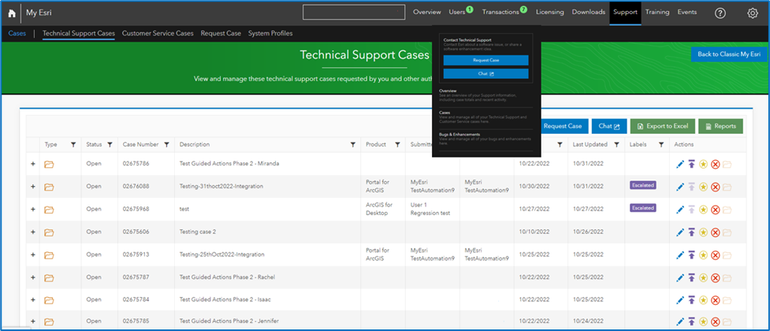 Developers
To move away from the current confusing User Interface experience, the new site has created a unique stand-alone Developer setting. For the scenario when an end user is not connected to My Esri and is sent an email to subscribe to an Annual Developer subscription, once they select the option in the email, they are now taken directly to the new Developer Subscription home landing page.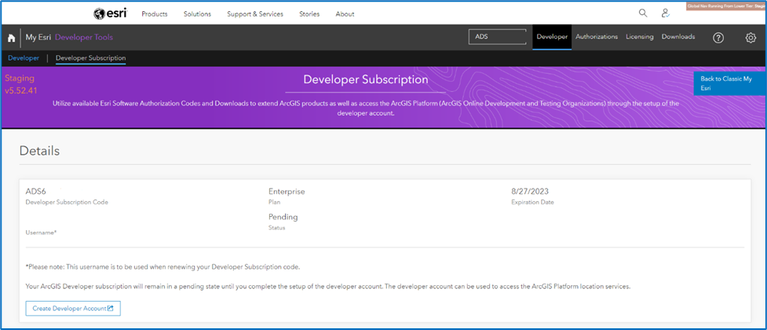 The end user now has an uncoupled interface where they can access all of the software entitlements at the mega menu level that are part of the Annual Developer Subscription.
If an end user is connected to My Esri already and is associated to an organization, when accepting access to an Annual Developer Subscription through the email, the experience will send them to the same Developer Subscription landing page, however if they need to access their organizations portal, selecting the My Esri home page icon takes them to the organizations profile page and they can get back through the option under the gear icon.

7 Comments
You must be a registered user to add a comment. If you've already registered, sign in. Otherwise, register and sign in.