New Contributor III
Mark as New

Bookmark

Subscribe

Mute
As we gear up for a series of virtual and in-person events over the next four months, we've decided to save the best for last. In honor of our 𝗘𝗗𝗚𝗘 𝗳𝗼𝘂𝗻𝗱𝗲𝗿 𝗞𝗲𝗶𝘁𝗵 𝗔𝗻𝗱𝗿𝗲 𝗦𝗲𝗮𝗿𝗹𝗲𝘀' 𝟱𝟬𝘁𝗵 𝗯𝗶𝗿𝘁𝗵𝗱𝗮𝘆, we're postponing our boat party portion of the scholarship celebration to 𝗔𝘂𝗴𝘂𝘀𝘁 𝟮𝟴𝘁𝗵, 𝟮𝟬𝟮𝟯. But don't worry! Our 𝗘𝗗𝗚𝗘 𝗔𝘄𝗮𝗿𝗱𝘀 𝗖𝗲𝗿𝗲𝗺𝗼𝗻𝘆 to celebrate scholarship winners, industry and academic professionals, organizations, and educational institutions will still take place on 𝗙𝗿𝗶𝗱𝗮𝘆, 𝗔𝗽𝗿𝗶𝗹 𝟮𝟴𝘁𝗵.

We look forward to recognizing and honoring those who embody our mission of promoting diversity, equity, and inclusion in the geospatial industry.

We apologize for any confusion caused by the change but we're grateful for your continued support. Let's work together to create a more inclusive geospatial industry!
𝗥𝗲𝗴𝗶𝘀𝘁𝗲𝗿 𝗡𝗼𝘄!

𝗦𝘁𝘂𝗱𝗲𝗻𝘁 𝗥𝗲𝗴𝗶𝘀𝘁𝗿𝗮𝘁𝗶𝗼𝗻, 𝗰𝗹𝗶𝗰𝗸 𝗵𝗲𝗿𝗲: https://bit.ly/3mlSYdk
𝗚𝗲𝗻𝗲𝗿𝗮𝗹 𝗥𝗲𝗴𝗶𝘀𝘁𝗿𝗮𝘁𝗶𝗼𝗻, 𝗰𝗹𝗶𝗰𝗸 𝗵𝗲𝗿𝗲: https://bit.ly/415aDF5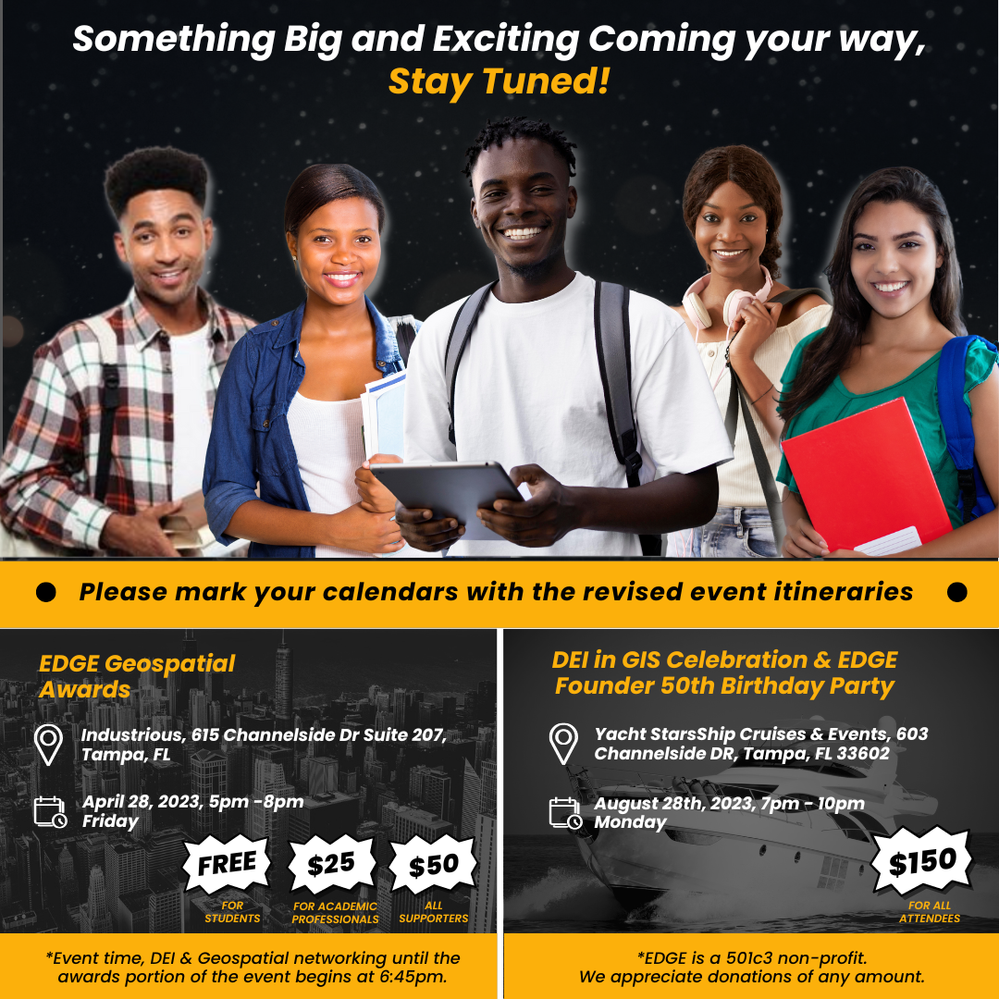 0 Replies