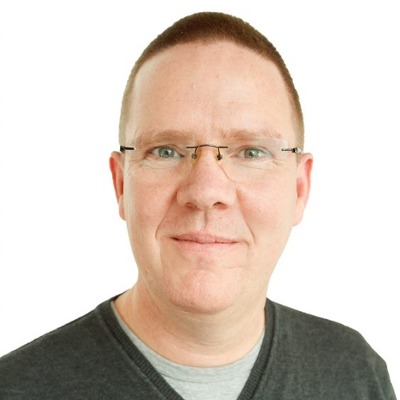 Mark as New

Mark as Read

Bookmark

Subscribe

Email to a Friend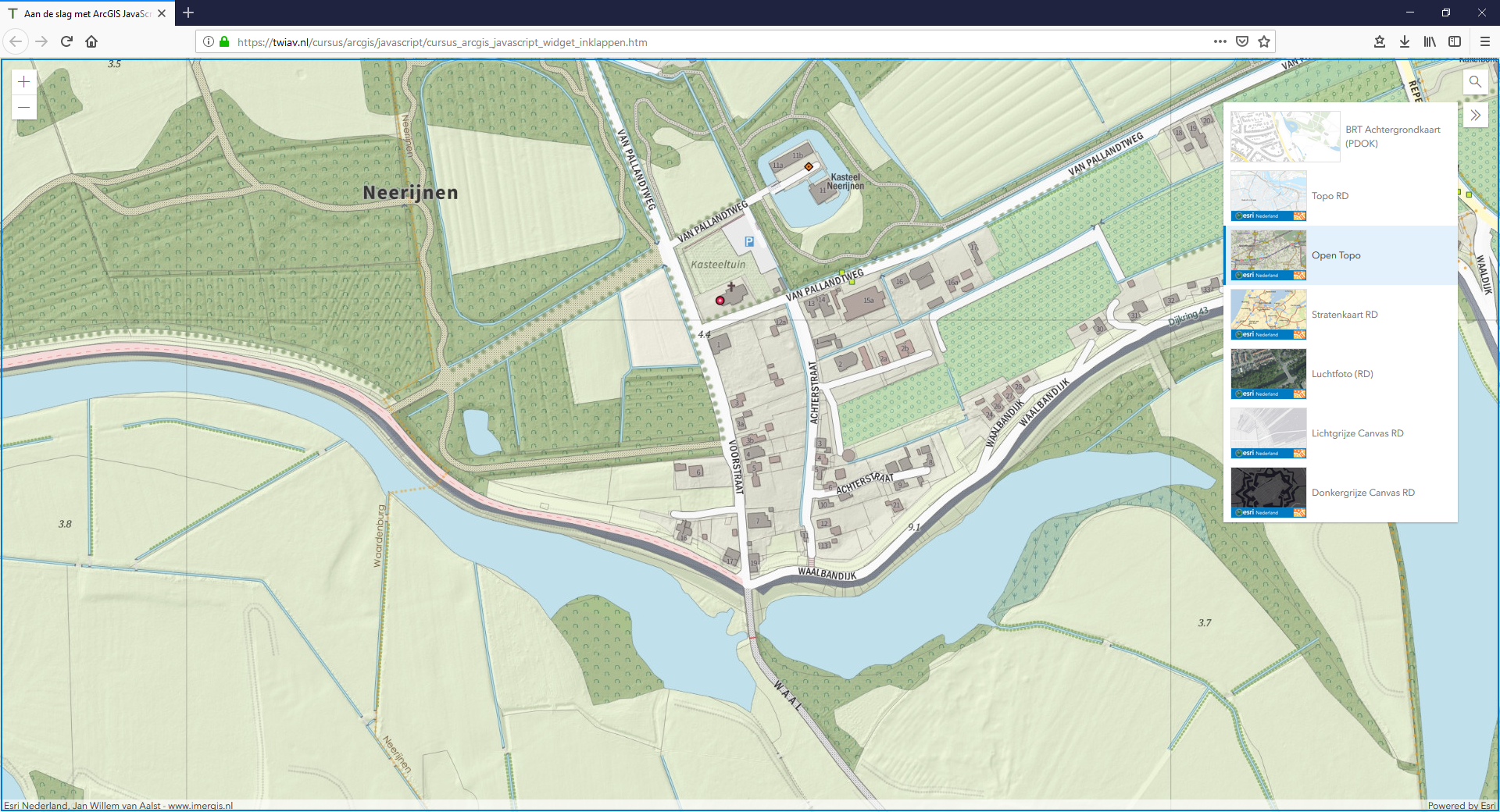 https://community.esri.com/people/EPolle_TensingInternational/blog/2019/06/02/aan-de-slag-met-arcgis...
Expand
In eerdere oefeningen hebben we widgets toegevoegd aan onze web mapping application, zoals de Search widget om op adres te kunnen zoeken, en de BasemapGallery widget om de achtergrondkaart te kunnen wijzigen.
Standaard is een widget uitgeklapt als deze wordt toegevoegd aan de view. Een nadeel hiervan is natuurlijk dat deze dan veel ruimte in beslag neemt op het scherm. Als oplossing hiervoor biedt de ArcGIS API for Javascript de Expand widget, waarmee je een widget onder een knop kunt verbergen, zodat de gebruiker deze zelf kan in- en uitklappen.
De standaardprocedure hiervoor is:
maak een widget aan
maak vervolgens een Expand aan om deze widget in te stoppen
voeg de Expand toe aan de view
In het voorbeeld hieronder hebben we de Expand voor beide widgets ook nog in één en dezelfde groep gestoken (group: "top-right"), zodat de basiskaartgalerij automatisch dichtklapt als het zoekveld wordt geopend, en andersom.
Deze methode kun je ook op andere widgets toepassen.
Klik hier om het in- en uitklappen van widgets in actie te zien.
<!DOCTYPE html>




<

html

>




<

head

>


  

<

meta 

charset

=

"

utf-8

"

>


  

<

meta 

name

=

"

viewport

"

 

content

=

"

initial-scale

=

1, maximum-scale

=

1, user-scalable

=

no

"

>


  

<

title

>

Aan de slag met ArcGIS JavaScript - Widget inklappen

</

title

>


  

<

style

>


    

html, body, #viewDiv

 

{


      

padding

:

 0

;


      

margin

:

 0

;


      

height

:

 100%

;


      

width

:

 100%

;


    

}


  

</

style

>



  

<

link 

rel

=

"

stylesheet

"

 

href

=

"

https://js.arcgis.com/4.11/esri/css/main.css

"

>


  

<

script 

src

=

"

https://js.arcgis.com/4.11/

"

>

</

script

>



  

<

script

>

  
      

require

(

[


        

"esri/Map"

,


        

"esri/geometry/Point"

,


        

"esri/views/MapView"

,


        

"esri/layers/WMTSLayer"

,


        

"esri/widgets/Search"

,


        

"esri/tasks/Locator"

,


		

"esri/Basemap"

,


		

"esri/widgets/BasemapGallery"

,


		

"esri/widgets/BasemapGallery/support/LocalBasemapsSource"

,


		

"esri/widgets/Expand"


      

]

,

 

function

(

Map

,

 Point

,

 MapView

,

 WMTSLayer

,

 Search

,

 Locator

,

 Basemap

,

 BasemapGallery

,

 LocalBasemapsSource

,

 Expand

)

 

{



      

// BRT Achtergrondkaart van PDOK als achtergrondkaart


      

var

 brtachtergrondkaart 

=

 

new

 

Basemap

(

{


        baseLayers

:

 

[


      	

new

 

WMTSLayer

(

{


            url

:

 

"https://geodata.nationaalgeoregister.nl/tiles/service/wmts?request=GetCapabilities&service=WMTS"

,


            copyright

:


              

"<a target='_top' href='https://www.pdok.nl/introductie/-/article/basisregistratie-topografie-achtergrondkaarten-brt-a-'>BRT Achtergrondkaart</a> van <a target='_top' href='https://www.pdok.nl/'>PDOK</a>"

,


            activeLayer

:

 

{


              id

:

 

"brtachtergrondkaart"


            

}


          

}

)


        

]

,


        title

:

 

"BRT Achtergrondkaart (PDOK)"

,


        id

:

 

"brtachtergrondkaart_pdok"

,


        thumbnailUrl

:

 

"https://www.pdok.nl/o/iv-pdok-theme/images/pdok/map.jpg"


      

}

)

;



      

// Basiskaarten Esr Nederland


      

var

 lightGrayCanvas_RD_EsriNL 

=

 

new

 

Basemap

(

{

portalItem

:

 

{

id

:

 

"9ff6521e85d24df1aa9cd4aebfef748b"

}

}

)

;

 

//Lichtgrijze Canvas RD


      

var

 darkGrayCanvas_RD_EsriNL 

=

 

new

 

Basemap

(

{

portalItem

:

 

{

id

:

 

"62a3befb579e4d9f9c5c51576c8a7c25"

}

}

)

;

 

//Donkergrijze Canvas RD


      

var

 topo_RD_EsriNL 

=

 

new

 

Basemap

(

{

portalItem

:

 

{

id

:

 

"7aea6fa913a94176a1074edb40690318"

}

}

)

;

 

//Topo RD


      

var

 open_Topo_RD_EsriNL 

=

 

new

 

Basemap

(

{

portalItem

:

 

{

id

:

 

"0698b71eb7cf47898086d072e574ac32"

}

}

)

;

 

//Open Topo RD


      

var

 stratenkaart_RD_EsriNL 

=

 

new

 

Basemap

(

{

portalItem

:

 

{

id

:

 

"9fe1a753955f418fa1cbaf1c47610a47"

}

}

)

;

 

//Stratenkaart RD


      

var

 luchtfoto_RD_EsriNL 

=

 

new

 

Basemap

(

{

portalItem

:

 

{

id

:

 

"38e1a1c6ee2c421290622400d22ecf57"

}

}

)

;

 

//Luchtfoto RD


      
      

var

 dutchBasemaps  

=

 

new

 

LocalBasemapsSource

(

{


        basemaps 

:

 

[

brtachtergrondkaart

,

 topo_RD_EsriNL

,

 open_Topo_RD_EsriNL

,

 stratenkaart_RD_EsriNL

,

 luchtfoto_RD_EsriNL

,

 lightGrayCanvas_RD_EsriNL

,

 darkGrayCanvas_RD_EsriNL

]


      

}

)

;



      

var

 map 

=

 

new

 

Map

(

{


        basemap

:

 topo_RD_EsriNL
      

}

)

;


      
	  

var

 view 

=

 

new

 

MapView

(

{


	    spatialReference

:

 

28992

,

 
	    container

:

 

"viewDiv"

,


	    map

:

 map

,


	    center

:

 

new

 

Point

(

{

x

:

 

155000

,

 y

:

 

463000

,

 spatialReference

:

 

28992

}

)

,


	    zoom

:

 

3

 
	  

}

)

;



      

var

 basemapGallery 

=

 

new

 

BasemapGallery

(

{


        container

:

 document

.

createElement

(

"div"

)

,


        view

:

 view

,


		source

:

 dutchBasemaps 
      

}

)

;



      basemapGalleryExpand 

=

 

new

 

Expand

(

{


        expandIconClass

:

 

"esri-icon-basemap"

,

 

// see https://developers.arcgis.com/javascript/latest/guide/esri-icon-font/


        expandTooltip

:

 basemapGallery

.

label

,


        view

:

 view

,


        content

:

 basemapGallery

.

domNode

,


        group

:

 

"top-right"


      

}

)

;



      

var

 searchWidget 

=

 

new

 

Search

(

{


        container

:

 document

.

createElement

(

"div"

)

,


        view

:

 view

,


        includeDefaultSources

:

 

false


      

}

)

;



      searchWidget

.

sources 

=

 

[

{


        locator

:

 

new

 

Locator

(

{

 url

:

 

"https://services.arcgisonline.nl/arcgis/rest/services/Geocoder_BAG_RD/GeocodeServer"

}

)

,

 

// GeocodeServer van Esri Nederland


        singleLineFieldName

:

 

"SingleLine"

,

 

// Deze optie zorgt er voor dat je kunt zoeken op postcode/huisnummer combinatie, bijvoorbeeld: 4181 AE 38


        placeholder

:

 searchWidget

.

allPlaceholder 

// "Find address or place" voor de English locale, "Adres of plaats zoeken" voor de Nederlandse locale


      

}

]


	  
      searchWidgetExpand 

=

 

new

 

Expand

(

{


        expandIconClass

:

 

"esri-icon-search"

,


        expandTooltip

:

 searchWidget

.

label

,


        view

:

 view

,


        content

:

 searchWidget

.

domNode

,


		expanded

:

 

true

,


        group

:

 

"top-right"


      

}

)

;



      view

.

ui

.

add

(

[

searchWidgetExpand

,

 basemapGalleryExpand

]

,

 

"top-right"

)

;



    

}

)

;


  

</

script

>




</

head

>




<

body

>


  

<

div 

id

=

"

viewDiv

"

>

</

div

>




</

body

>




</

html

>

‍‍‍‍‍‍‍‍‍‍‍‍‍‍‍‍‍‍‍‍‍‍‍‍‍‍‍‍‍‍‍‍‍‍‍‍‍‍‍‍‍‍‍‍‍‍‍‍‍‍‍‍‍‍‍‍‍‍‍‍‍‍‍‍‍‍‍‍‍‍‍‍‍‍‍‍‍‍‍‍‍‍‍‍‍‍‍‍‍‍‍‍‍‍‍‍‍‍‍‍‍‍‍‍‍‍‍‍‍‍‍‍‍‍‍‍‍‍‍‍‍‍‍‍‍‍‍‍‍‍‍‍‍‍‍‍‍‍‍‍‍‍‍‍‍‍‍‍‍‍‍‍‍‍‍‍‍‍‍‍‍‍‍‍‍‍‍‍‍‍‍‍‍‍‍‍‍‍‍‍‍‍‍‍‍‍‍‍‍‍‍‍‍‍‍‍‍‍‍‍‍‍‍‍‍‍‍‍‍‍‍‍‍‍‍‍‍‍‍‍‍‍‍‍‍‍‍‍‍‍‍‍‍‍

‍

‍

‍

‍

‍

‍

‍

‍

‍

‍

‍

‍

‍

‍

‍

‍

‍

‍

‍

‍

‍

‍

‍

‍

‍

‍

‍

‍

‍

‍

‍

‍

‍

‍

‍

‍

‍

‍

‍

‍

‍

‍

‍

‍

‍

‍

‍

‍

‍

‍

‍

‍

‍

‍

‍

‍

‍

‍

‍

‍

‍

‍

‍

‍

‍

‍

‍

‍

‍

‍

‍

‍

‍

‍

‍

‍

‍

‍

‍

‍

‍

‍

‍

‍

‍

‍

‍

‍

‍

‍

‍

‍

‍

‍

‍

‍

‍

‍

‍

‍

‍

‍

‍

‍

‍

‍

‍

‍

‍

‍

‍

‍

‍

‍

‍

‍

‍
You must be a registered user to add a comment. If you've already registered, sign in. Otherwise, register and sign in.