by
TomDeWitte

Esri Regular Contributor
Mark as New

Mark as Read

Bookmark

Subscribe

Utility and Pipeline Data Model 2021 is Released
By Tom DeWitte and Tom Coolidge
Esri's Utility and Pipeline Data Model (UPDM) 2021 is available now. This release continues Esri's practice of maintaining a template data model ready "out-of-the-box" to manage natural gas and hazardous liquid pipe system data within an Esri geodatabase. This release includes enhancements to keep up with changes in industry practice, regulatory requirements, and previous implementation feedback.
Gas and Pipeline Enterprise Data Management
For many gas utility and pipeline enterprises, deploying the ArcGIS platform is more than simply loading the UPDM 2021 data model into an enterprise geodatabase. That's because ArcGIS leverages the concepts of a service-oriented web GIS. It requires additional steps, such as creating an ArcGIS Pro map configured for publishing the data model, publishing of the Pro map to create the required map and feature services and, perhaps, configuring a location referencing system. To help simplify these additional steps performed with UPDM 2021, Esri has embedded UPDM 2021 into a newly renamed ArcGIS for Gas solution. The new solution is called Gas and Pipeline Referencing Utility Network Foundation. This solution provides UPDM 2021, sample data, and an ArcGIS Pro project configured with tasks and performance optimized maps. You can access this solution from the Esri ArcGIS for Gas solution site.
A full data dictionary of UPDM 2021 is available online.
A change log documenting the full list of changes incorporated into UPDM 2021 is also available online.
Enhancements for Managing Cathodic Protection
Interest in leveraging ArcGIS to manage Cathodic Protection (CP) data has grown significantly over the last few years. Recent implementations have shown an interest in modeling a more detailed representation of CP systems. With UPDM 2021, our industry data model now includes models for managing the following CP assets:
Linear Anode
AC Mitigation Wire
Decoupler
Grounding Point
Cathodic Assembly
Grounding Mat
Feedback from Pipeline Implementations
Pipeline implementations of UPDM have been many and varied. These previous implementations have resulted in feedback that has resulted in dozens of adjustments to improve how we model pipeline assets. Two specific enhancements based on previous implementations to highlight are the defining of the attributes "odorized" and "piggable" as Utility Network Network Attributes.
Having "odorized" and "piggable" as Network Attributes provides additional capabilities for leveraging tracing. Tracing is the ability to understand how the components of a pipe system are connected, and how the gas and hazardous liquids flow through the pipe system. With this new template configuration, pipeline operators can trace across their pipe system and see where the "piggable" portion stops when it reaches an asset which is tagged as not piggable. Similarly, planners and engineers can trace to see what portion of their pipe system is "odorized."
Feedback from Gas Utility Implementations
Previous implementations of UPDM in Gas Utilities have also resulted in feedback to help fine-tune the gas and pipeline industry data model. Some of these adjustments include improved modeling of relief valves, flanges, and taps to name a few. Other enhancements include adjustments to the Utility Network rulebase.
What is UPDM
UPDM is a geodatabase data model template for operators of pipe networks in the gas and hazardous liquids industries. UPDM is a moderately normalized data model that explicitly represents each physical component of a gas pipe network from the wellhead to the customer meter, or a hazardous liquids pipe network from the wellhead to the terminal or delivery point, in a single database table object.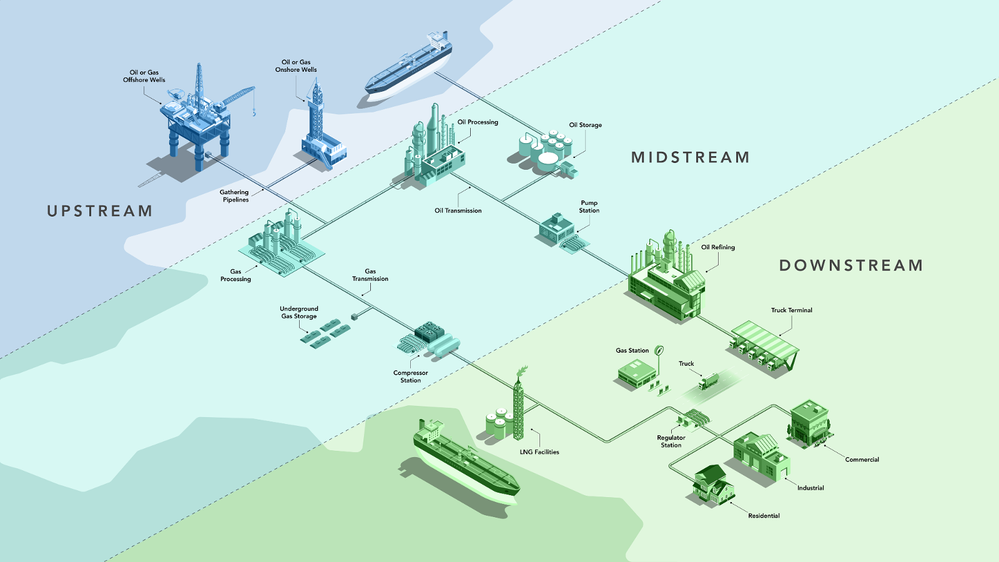 UPDM is the only industry model which can manage a single representation of the entire pipe system. For many companies around the world this single data repository aligns well with enterprise practices to vertically integrate business processes and operations.
Why UPDM
The goal of the Esri UPDM is to make it easier, quicker, and more cost-effective for pipeline operators and gas utilities to implement the ArcGIS platform. The Esri UPDM accomplishes this by freely providing a data model that takes full advantage of the capabilities of the geodatabase. The data model is created and tested with ArcGIS products to ensure that it works. This significantly reduces the complexity, time, and cost to implement a spatially enabled hazardous liquid or gas pipe system data repository.
Looking Forward to UPDM 2022
A wise man once said "change is the only constant." This is a great quote when thinking about UPDM going forward. The Esri development team will continue to enhance the capabilities of ArcGIS. Industry will continue to evolve its practices. To continue adjusting to industry practices and incorporating new ArcGIS capabilities, UPDM will continue to evolve. This evolution will help assure gas utilities and pipeline operators that their GIS industry-specific data model is current with their needs.
PLEASE NOTE: The postings on this site are our own and don't necessarily represent Esri's position, strategies, or opinions.
17 Comments
You must be a registered user to add a comment. If you've already registered, sign in. Otherwise, register and sign in.