by
JosephKerski

Esri Frequent Contributor
Mark as New

Mark as Read

Bookmark

Subscribe

Email to a Friend
What did you do for GIS Day 2021? On GIS Day, the global community helps others learn about geography and the real-world applications of GIS that are making a difference in our society. It is an opportunity for people to share their accomplishments and inspire others to discover and use GIS. I had a very "spatial" time presenting many times during the week to a wide variety of audiences from all over the world. I hope you had a wonderful day and week presenting and participating in events. In this article I highlight just a few of the 1,500 inspiring events from around the world (see this web map to learn more about each event and the global distribution) and the visionary people and the visionary people in the GIS community who made those events happen. These events were hosted by libraries, museums, private companies, universities, colleges, schools, government agencies, and nonprofit organizations, from people spanning a wide diversity of disciplines--literally from agriculture to zoology. Feel free to comment below about the events that you hosted or participated in!
GIS does not "end" after GIS Day ends! The resources developed for GIS Day can be used throughout the year! The resources on the GIS Day site include some Digital Celebration [gisday.com] content as well as a new Digital Swag Bag [gisday.com], that contains digital downloads, coloring pages, games and activities, plus links to download the new GIS Day mobile app.
One of the largest events spanned multiple days, and thus was dubbed GIS Week! This virtual event was hosted by the Unviersity of California system and they found ArcGIS Hub was the perfect technology to host it. Many of my Esri colleagues and I conducted workshops and presentations at this event: My workshop focused on connecting maps, story maps, dashboards, and Survey123; David Yu's featured Deep Learning in ArcGIS; Lucy Guerra's featured enhancing the user experience with quality data. We were joined with workshops from some truly wonderful students, faculty, and GIS professionals. Another multi-day event was hosted by Western Libraries in Canada, where they used an ArcGIS dashboard to track speakers and activities. Another multi-day event was Texas GIS Day, where my colleague Lisa Berry gave the keynote, I gave a workshop for educators after hearing how they are using GIS in innovative ways in their instruction, and dozens of others shared their knowledge.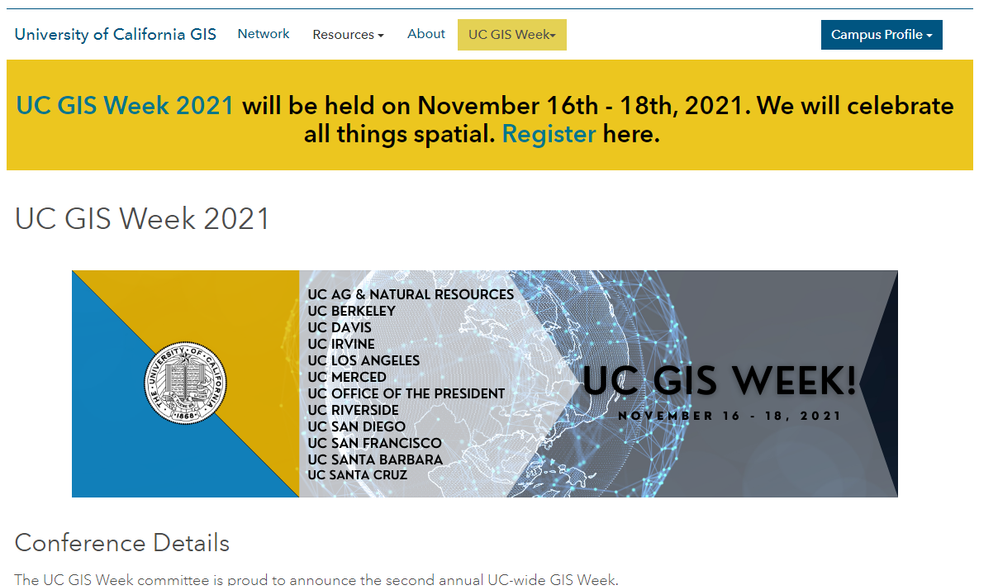 GIS Week ArcGIS Hub from the University of California system.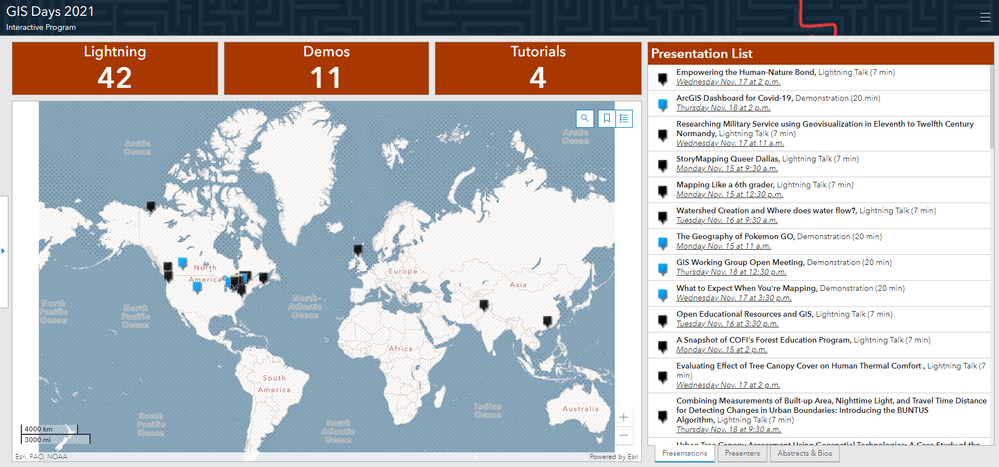 GIS Days Dashboard from Western Libraries in Canada.
Several GIS Day events this year were live webcasts. My Esri commercial team colleague Cindy Elliott was joined by Sean Crotty, professor at Texas Christian University, Liz Parrish from HEB, and Matt Patyk of Dunaway. They discussed how GIS cutting-edge technology cuts across all businesses and areas of practice to help make better decisions and solve complex challenges. The recording is archived here on LinkedIn. I conducted my 2nd annual live webcast focused on education, including how and why to teach GIS from primary to university settings and in a wide variety of disciplines. This webcast, entitled Maps, Music, and More, was conducted via Facebook Live, and it is archived in 4 segments, beginning here and as a story map, here. Plus, this video of "Globie" baking an Earth cake was popular!
I was invited to participate in a large combination face-to-face-and-online GIS Day event hosted by Centurion University in India. The event featured speakers, posters, and networking (see below).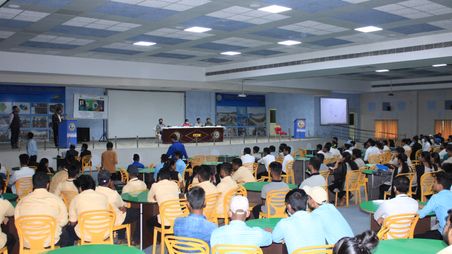 Centurion University's GIS Day event.
I gave a presentation for the GIS and education community in Bulgaria. My colleague in education from Esri Bulgaria also presented, along with other GIS professionals, teachers and professors, and over 200 students. In Bulgaria, over 10,000 students and more than 1,000 teachers have ArcGIS Online accounts. Here is a a Dashboard thtat is updated every few days showing the extent to which GIS is used in the country, and an Educational Hub, along with the winners. of their mapping competition.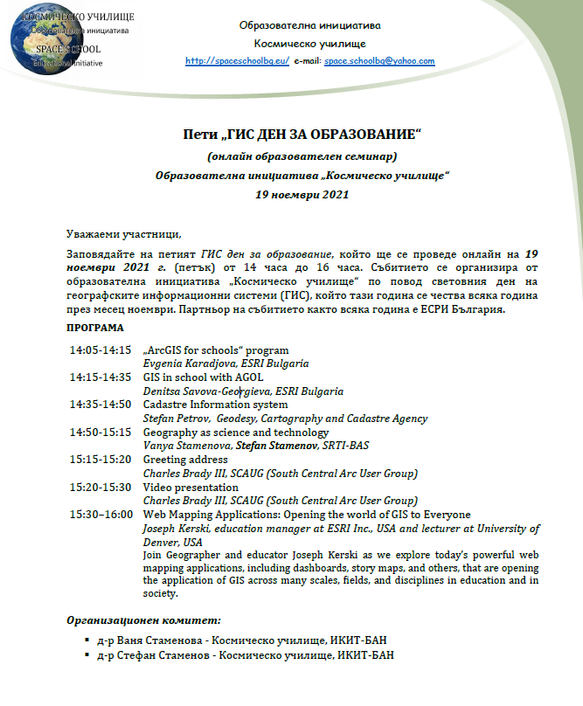 The program for the GIS Day event in Bulgaria.
Other GIS Day events included Kenyatta University in Kenya, where the theme was GIS in research and tourism management, a drones saving lives presentation in Sweden, a "OpenGeoData to Web GIS Applications" presentation from the African Association for Geospatial (AGEOS) in Tunisia, many events for teachers, including one hosted for Hawaii educators by Learning Endeavors, the Spatial Information and Cartography Commission in Australia, and a presentation at the University of Minnesota, featuring Dr Michelle LaRue in this year's Borchert lecture, "From cougars to penguins: Pushing boundaries in spatial ecology."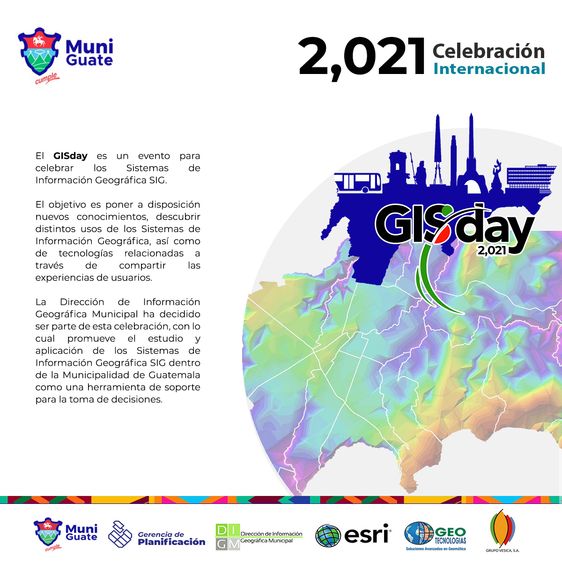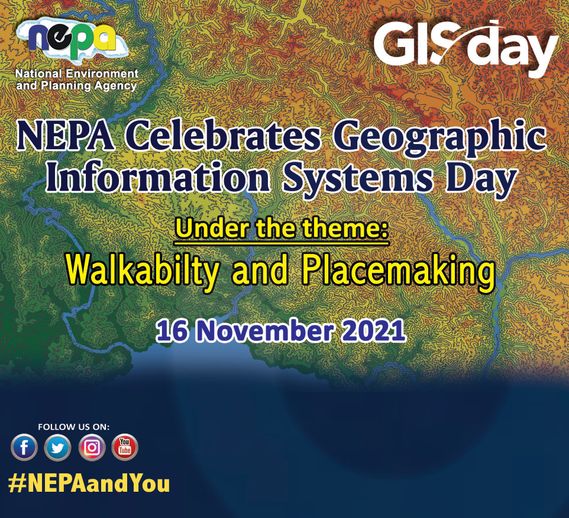 GIS Day events in Guatemala and Jamaica. I gave a workshop for the Jamaica community's event because of my work on walkability and GIS.
To see people applying spatial thinking and geotechnologies to make the world a safer, more resilient, healthier, more equitable, more sustainable place really warms the "geo-heartstrings". If you are curious about GIS, I invite you to use the resources in this Esri Community space to learn more about it. If you are already using GIS, every day is GIS Day (see this video for why this is so), and I salute your work and your vision. You are making a positive difference in our world!
--Joseph Kerski
2 Comments
You must be a registered user to add a comment. If you've already registered, sign in. Otherwise, register and sign in.