New Contributor III
Mark as New

Bookmark

Subscribe

Mute
Hi,
I've been working enthusiastically with vectortiles for a while now - huge potential compared to the RasterTileCaches !!!! For certain maps I rely on more complex line-strokes - dash patterns (and also 45-degree Hatched Filled Patterns but that's a different topic 😛 ).
When publishing line features as VectorTiles from ArcGIS Pro (2.8.1), "dash patterns" are supported - but it seems that only dashes of "Dasharrays x-y" (6,3 or 10,5 or ....) are supported. More complex dashes like 9,3,3,3 or 10 5 3 5 3 5 ( Line space dot space dot space) are not translated correctly. Not even if you edit them in the VectorTileStyleEditor... not even if you adjust the property "line-dasharray" via editor in the StyleFile of a VectorTilePackage.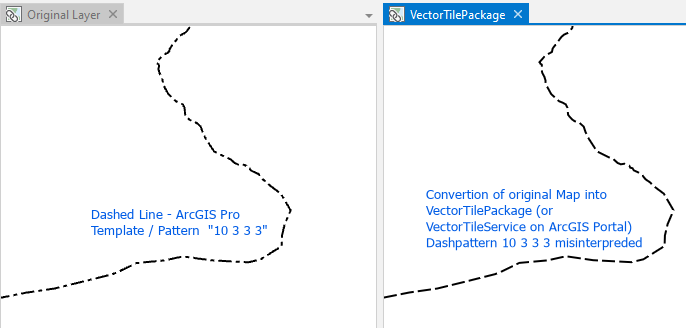 Where is the origin of this problem? Is it expected that this functionality will be included?
Are there any workarounds / hacks to get a result anyway (I was thinking of "shape markers" and "dash-pattern-vectorimages")?
Any kind of input is welcome
Andi
8 Replies