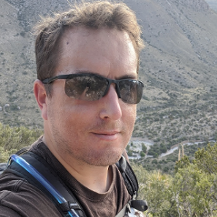 Occasional Contributor
Mark as New

Bookmark

Subscribe

Mute

Email to a Friend
Have a Survey123 stood up for doing site assessments of debris. The worker loads a site from the inbox and adds a visit log as a repeated record. The existing visits have updates disabled and adds enabled. So far so good. The problem is when attempting to add a new record, it bumps back with an error that a photo is required. The field it points to is the photo from the previous visit that is already populated. Its updates are disabled I can't do anything about it. Easy solution for the moment is the make the photos not required but ideally they would be.
Here's a screenshot of what happens to the existing read-only record when I try to add a new record.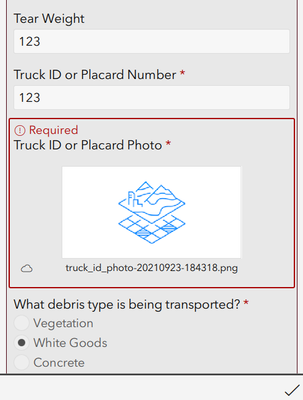 2 Replies
Mark as New

Bookmark

Subscribe

Mute

Email to a Friend
Hi @JasonJordan00,
Thanks, I am able to reproduce this issue when using required image questions and the Inbox, both inside and outside repeats. It appears related to the fact the image is not actually downloaded and stored when you view images in Inbox, hence it thinks the image is missing. We will look into this and get back to you shortly.
As a workaround for now, you could try using an expression for the required status on the image question, and use the pulldata("@property", 'mode') to check if the survey is in edit mode, and if so, make the question not required. This would at least mean when a new collect is being collected, the image questions will be required, but when editing (using Inbox) or adding new repeats in Inbox, the image question will not be required. More info on pulldata("@property", 'mode') here:
https://doc.arcgis.com/en/survey123/desktop/create-surveys/xlsformformulas.htm#ESRI_SECTION1_A3C2F35...
Also, have you logged an issue with Esri Support, if not, I strongly recommend you do so we can ensure this issue gets resolved in a future update.
Regards,
Phil.
Mark as New

Bookmark

Subscribe

Mute

Email to a Friend
Hi @JasonJordan00,
Just letting you know that the Early Adopter Community (EAC) has just been updated with new 3.13 October Update RC builds. These builds include a fix for the required image issue you reported above. If you have time, please take a look and test out your surveys with these new builds. We hope to get this update released and available in the app stores as soon as possible.
Regards,
Phil.